South African National Championships 2021
SASL Season VI finally finds a winner
An interview with... Beverly Cosslett
Don't stop fighting
Aero Club Centenary Yearbook
Diaz Beach Boogie 2020
Summer Jol 2020
Licences and Ratings
PASA regulatory documents
PASA office closing dates
The SSA is excited to announce the dates for South African National Championships 2021 hosted by Johannesburg Skydiving Club.

Training days: 24 - 26 April 2021

Competition: 27 April - 1 May 2021

Weather day: 2 May 2021

Support South African Sport Skydiving and join us in 2021.
---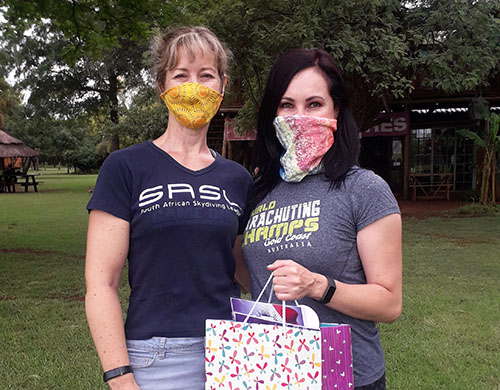 Reminding us that 2020 isn't ALL bad, we got back into the skies and have finished off the SASL finals. With somewhat less fanfare than usual, we were thrilled to finally be able to award our heap of generously sponsored prizes to the Season VI winner, Yolandi Deminey.
Yolandi skips out of this season with a really great bag of loot.
A Cookie G4 Helmet
An L&B Protrack II
An L&B Viso II
A Cypres Maintenance Voucher
A Cypres Hoodie and
R10 000 towards the FS Suit of her choice
Taking second place, Michael Walker won some goodies of his own, making it worthwhile to fight to the end.
A 30% discount off a Cookie G4 Helmet and
A Cypres Hoodie
Yolandi spent the season doing exactly what we at SASL want to see – teaming up with a range of experience levels, taking low experience jumpers to the skies and introducing the uninitiated to the addictive world of FS competition.
Through the season, we could also spread the love to other competitors and monthly winners with spot prizes.
Congratulations to the winning teams in the 4-way and 2-way categories.
4-Way FS:
1st place

Jazz Republic
2nd place

Aerium
2-Way FS:
1st place

Jana & James
2nd place

Glitter Guppy
A special mention goes out to 4-way team Aerium, who we have seen form and grow over the years and are looking great! The Aerium members are game for anything, and their attitude, commitment to the team and the sport, and potential as flyers is certain to take them far. They are the team everyone loves to love and we're excited to watch them through the next season and in the years to come.
We hope that the delayed finish didn't overshadow the SASL season for you as competitors. Thanks for joining us and keeping it interesting. We had a great start and love to bring competition to all levels at all DZs.
Thanks too to the PASA judges for the judging days. Judging takes longer than many realise and we appreciate every minute.
And of course, thanks to our sponsors. They have once again brought this league the added excitement of truly spectacular prizes and we can't thank them enough for their support and generosity. Competition, development, inclusion; these brands just get us and we super proud to have them behind the league.
Aerodyne
Cookie Helmets
Cypres
L&B Altimeters
PASA SSA FS Committee
If you didn't win something of theirs this season, maybe some retail therapy will console you – check out their websites for their latest cool toys.
That's it from us closing out a very strange year indeed.
Wishing you all the best summer boogies, lots of airtime and safe skydives.
Game ON!
---
---
On 28 October 2020, Bev Cosslett became the first female Instructor Evaluator in South Africa. PASA congratulates Bev on this stellar achievement and we thought this would be the perfect time to get Bev to share some insights into her path to this point.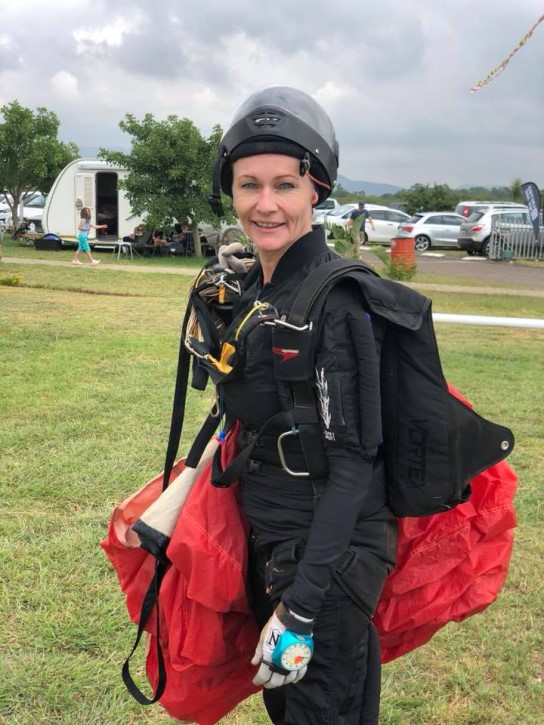 Photo courtesy: Alex Jordaan
1st jump: 30 November 1997 at Freeway Skydiving Club

Last jump no.: 3719

Skydiving mentors:

Vana Parker was the person who drove me to rack up jump numbers in teams, do coaching, and pushed to get my Instructor ratings.

Eric "tonto" Stephenson was the man who moulded me regarding safety, teaching, managing students, and increasing a general awareness in the sport.
Competition – SA Nationals / World Championships:
My first Nationals Championship was in 2001 with team Mugg & Bean with Amy Kirtland-Ashford, Karl Meyer, and Vana Parker. We took two years to win the event and break the 4-way Novice record. It was before the time of tunnels, so it was a great achievement.
I went on to do Intermediate with the same team before moving onto 4-way Open in the SA Girls team Angel Fire, where we represented SA at the World Championships in Croatia in 2004 with Amy Kirtland-Ashford, Jacky Cabral (Geyer), and Linda Holland.
In 2006, I represented SA in the 4-way female event in Gera, Germany, with Linda Holland, Lynn Geater and Charis Beasley (Baleson) and with the ever-entertaining Dave Van Der Merwe on camera.
From then on, I have been in a bunch of 2-way, 4-way open and intermediate teams, and some 8-way teams, with Team Ragno being the most recent, over the last few Nationals events.
Between 2001 and 2019, I have competed with 20 teams in 2-way, 4-way and 8-way Formation Skydiving and also in Canopy Piloting in 2007.
Highlights in your skydiving career?
I managed to participate in some significant events over the last 22 years. The Mmabatho boogies were always exciting. I have travelled internationally to visit US drop zones, done many tunnel camps on three continents, and of course, the two World Meet events. In Croatia, we witnessed SA-born Solly Williams, Gary Smith and Graham Harding (camera) win the 4-way Open event, albeit representing the USA.
Our training always included a stop-over in Empuriabrava for pre-meet training. We were so junior compared to the South African stalwart teams who offered advice every step of the way. We even had personal hero Bruno Brokken film us skydiving over the Bay of Roses for an insanely memorable photo!


| | |
| --- | --- |
| Klatovy - Photo courtesy: Mark Riesnik | After the 2006 Gera World Meet, I stayed on to join the SA team at the first World Meet in Canopy Piloting in Austria. Donavon Crerar and Chris Beasley represented SA. Spending time with the US-based Performance Designs team over the week was eye-opening and watching them swoop over a pond over the city, a world-first, was something I will never forget. |
I am one of four people who still hold the record for 100 jumps in a day, with the help and support of three drop zones' worth of skydivers and packers. The other jumpers were Vana Parker, Carlos Cabral, and Barry Sterley.
During my time in girl's teams, we did a lot of press, representing the sport in the media, TV, radio, and even convincing my mom to join me on a dating show called "Show me the Mommy" (which we won because she rocks). I was an Adidas sponsored athlete for three years, which also led me to meet many sportspeople and represent the sport and the brand in their advertising.
I made the FHM 50 Hottest Dates list for two years running and represented women and skydiving in various calendars, including the Xtreme sportswomen calendar.
| | |
| --- | --- |
| More recently, I had a bespoke beer brewed in my name by Mad Giant Brewery, with my story on the label, as part of the #Shelovesbeer campaign to promote women who have excelled in a male dominated industry. | |
So, the blend of jumping, promoting the sport in general, and the experiences that came with that was what inspired me to continue to grow and develop the sport overall.
What/who inspired you to become an instructor and evaluator?
Vana Parker was the driving force behind Amy and myself getting our JM, Coach, Pro, Instructor, and AFF ratings.
Eric "tonto" Stephenson was a fundamental driver for me to continue to teach. The love of development, growth, and fulfilment you get from seeing students succeed and become rockstar skydivers is, of course, the ultimate feeling.
As an instructor, you change people's lives in ways you never really know. I have had people come to me years later to tell me the impact I had on their lives at the time. Something we sometimes take for granted.

Bev with AFF student Lynsey Houston
Photo courtesy Jimmy du Preez


Bev with tandem passenger Caroline Rex


Being the Chief Instructor of the Johannesburg Skydiving Club over the last seven years has sparked a new interest in development, and I needed to focus on my improvements as well. Learning team camera, doing my Tandem Instructors Course, and working towards the Evaluators Rating, took up much of my time on my personal development. Adding in many tunnel camps and teams over the last four years to continue my own skydiving skills and improvement was a vital aspect of this. I did not want my skills to subside while I focused on students and the "administration" of the CI role.
I know I cannot do these jobs independently, and my Instructor body and JSC committee is an invaluable team to allow me to still grow in my own right. Eugene Potgieter, Fritz Schoeman, Amy Kirtland-Ashford, and Ryan Weeks have been my support pillars for many years while I focused on this goal.
Advice for new skydivers (particularly female skydivers):
It is not a race. It is an adventure. Find what makes you happy at that time and pursue it. You don't have to choose one path and stick to it forever. There are so many aspects of this sport to experience, so don't close doors for yourself.
It takes a bit of a thick skin to be a woman in the sport. Men are naturally more determined, and women tend to take a step back. In the words of Sheryl Sandberg, "lean in" and take your seat at the table. There is so much room for women in the sport, but they need to speak up for what they need to excel.
There is still a stigma attached to women as leaders, and I have experienced my fair share of rude, obnoxious, and vile commentary from men who believe they have a right to speak to you with disrespect. But for every man who has a complex about a female instructor, or CI, ten men are amazing, supportive, and are there with a helping hand.

During my Evaluator journey, Manuel Cordeiro and Mark Bellingan have been phenomenal in guiding me on the path.


Display jumps for President Mbeki
Now that the door has been opened, I can't wait to introduce more women instructors and evaluators to the club.
---
Background
2nd wing suit jump of the day after a break since March due to lockdown
Exited at 13650 ft (altimeter reading)
Incident
A lazy exit resulted in me going unstable as I left the aircraft my legs separated slightly during the unstable exit resulting in the tail catching wind and tossing me in a spin. I didn't try to fly the suit immediately, hyper aware of the aircraft tail. I shut-down and arched as trained expecting to stabilise, but it seemed I was not only spinning, but tumbling as well, if this is possible. The ground was just a flash of dullness after the bright sky and the spin seemed to be speeding up. For the first time I experienced tunnel vision and realised the spin was not recoverable. I went into a ball position to deploy which caused the speed of the spin to increase even more. At 12 000ft my altimeter recorded me falling at 262km. I glimpsed the pilot chute opening as I was rotating and then the horror of going through the risers and suspension lines in a ball position. The main deployed but with bad line twists and a few suspension lines wrapped around me, 3 end cells did not inflate and the main started spinning. I was around 11000 ft. (N3A audible altimeter counting down my height). I tried shrugging off the lines and grabbed the risers, but had limited movement with my arms still zipped in the wings. The canopy spin started to accelerate into a flat spin. At that point I made the decision to cut away I was around 10 000 ft. I had time! I executed my emergency procedures and pulled my cutaway and delaying pulling my reserve so I could get stable (I do not use a RSL). I had the time. Nothing happened! The main stayed in position and in a spin. I thought maybe I did not pull hard enough because of the wing suit arms and pulled again to make sure I could see the soft cut-away handle and the red Teflon cables in my hand. I delayed for about 2 seconds (felt like an eternity) before pulling my reserve hoping the main would clear. When I pulled my reserve I was thinking do not get caught in my main. The reserve came out and put me in an upright position and twisting me around. I saw the main move toward the reserve in a slow dance and then wrapped its self around the reserve which partly collapsed. – F%$K!
At least I was not spinning and my fall rate had slowed with the 2 pieces of material above me even if they were not fully inflated. It was serenely calm after the last few frantic seconds.
Time to fight!
I reached for the lines above me and started shaking it hoping to separate the main and reserve. Bloody arms still zipped. Stop. Unzip. I realised I had difficulty seeing my helmet visor was completely fogged up - something to do with my heavy breathing, I guess. Open visor and assess.
After some more tugging and shaking the reserve inflated (Yes!) but had line twists and had my main's suspension lines wrapped around the reserve's suspension lines. The main was gently bouncing into the reserve looking like it would at any time completely swallow-up the reserve. I was in a slow gentle pendulum swing below the main and the reserve. I started kicking and trying to get out of the line twists and at the same time tugging on the main's suspension lines. This yielded no movement. I remember thinking to myself stop your panicking, re-assess. l still had not cleared 9000 ft! I relaxed lowered my arms and looked down to assess how the lines were wrapped around me and somehow this movement caused the main to unwrapped slightly and pull to one side. At least it was away from my reserve. I still could not steer the reserve because of the line twists, but this was now a survivable incident. The landing would be hard, but not at a fatal speed - a feeling of elation.
The suspension lines of the main was tugging around my body and I suspect around my rig. I reached for my hook knife on my chest strap and cut one suspension line that was pulling across my helmet. Nothing. Then a line moved directly in front of my eye line or had been there the whole time not sure. I could see it was under tension and slipped the knife over it and it snapped immediately the main released and started to fly away. Without the main's suspension lines wrapped around the reserves suspension lines I could easily kick out of the line twists with my legs still zipped in the wing suit.
I had a working parachute – Happiness is a fully deployed and working reserve.
I reached up for the toggles and realised for the first time I was still holding my cutaway and reserve handles. At some point I must have tossed the hook knife (can't remember).
Around 9000ft I had a fall rate of 21km/h The entire incident took place in around 4650 Ft.
This is my recollection through my adrenaline infused, hyper-ventilating state.
I survived. I don't think I could have done any better (well, maybe a better exit out of the aircraft!)
Lessons
Confidence is not currency – I was on a high after my first jump after 7 months. The 2nd jump taught me humility
Make your decision early. I heard a Tontoism at the boogie "If there is any doubt, there is no doubt "– he got it.
Practice going for your hook knife. Until that day I had never reached for my chest hook knife under canopy nor have I even used the hook knife to cut anything. I'm not sure if I could have reached the wingsuit factory fitted hook knife while pulling "G's"
Altitude awareness – This gives you time and time gives the ability to assess and make decisions
Think in steps – break it down. I need an open reserve/ I need to get the main clear/ I needed my risers untwisted.
Above all don't stop fighting
(You will ruin the day for your fellow jumpers on the DZ if they have to shut down to recover you.)
Thanks to Pottie and Dennis for looking for my main, Gloei for the visuals and Timmy for the reserve pack job.
Nigel Alexander, B2976
---
---
The Aero Club as part of its Centenary Celebrations had planned for a Centenary Year Book to be released in 2020, as part of the wider celebration plan. The book has now been completed covering a rich 460 page (with around 1800 illustrations) compendium of Recreational Aviation in SA through the last 100 years, under the expert guidance of John Illsey as the Editor, with inputs from our membership from all our sections.
The books are now available and printed in Novalite (Leather), Hard Cover & Soft Cover versions, from the Aero Club Website Shop, or from the Aero Club office.
Delivery Options are collect at the Rand Airport Aero Club office, or door to door courier service anywhere in SA. Courier costs range between R100 to R150 per book, dependent on location.
Pricing:
– Novalite (Leather) Bound Book – R 500
– Hard Cover Book – R 400
– Soft Cover Book – R 300
---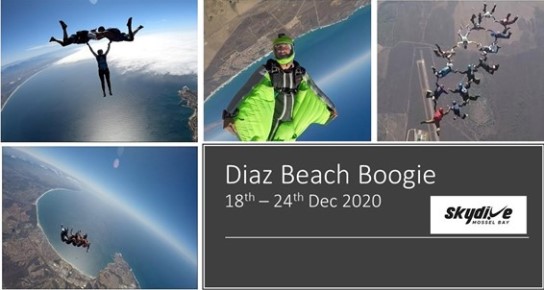 The Diaz Beach Boogie is going ahead as planned, with COVID-19 protocols in place. Our Municipal Manager and Tourism office are working very hard behind the scenes to make sure holiday makers (including boogie skydivers) can still have a good summer holiday despite the recently imposed restrictions. Most of the evenings social events have been planned for on the drop zone or airfield club house this year with a focus on providing educational seminars as well as braais, movie night, free pizzas and good times. Seminars include topics like Flight One Canopy Etiquette with Julian Barthels. Thatch will be doing a seminar on HALO jumps and Simba will be telling us about his 400 way experience.
Simba is load organizing a closed group of FS jumpers and there are two additional FS rated coaches available to organize other smaller groups. Julian Boulle joins us again for angle and wing-suiters and Nic Coulson is organizing the free flyers. Hope to see you there. Stay safe.
Click for more information
---
---
Book dinner for the Summer Jol as well as New Years evening by filling out the google form by 18 DECEMBER 2020

27-30 DEC 2020 R80 per night
31 DEC 2020 New Year's party and Spitbraai R150
Please let us know if you are joining before 14 DEC 2020
Vegetarian and special requests will be accommodated
---
Licences

A7767
Adam Winter
Durban Skydive Centre
A7768
Allister Langridge
Skydive Pretoria

A7769

Roberto Caforio

Skydive Pretoria

A7770
Andrey Goryachkin

Skydive Pretoria

A7771

Sacoura Ndiaye

Skydive Pretoria

A7772

Saurav Shah
Skydive Mossel Bay

A7773

Jonathan Trethewey

Skydive Pretoria

A7774

Dewald Coetzee
Johannesburg Skydiving Club

A7775

Willem Visser
Johannesburg Skydiving Club

A7776

Almaro de Villiers
Skydive Parys

A7777

Nicole Grealey
Johannesburg Skydiving Club

A7778

Jolene Redelinghuys
Skydive Parys

A7779

Daniel Brent
Durban Skydive Centre

A7780

Kyle Blignaut
Skydive Cape Town

A7781

Keagan Mitchell
Skydive Cape Town
B3146
Emé Vermeulen
Skydive Parys
B3147
Gabriel le Roux
Skydive Pretoria
B3148
Jaco Crause
Skydive Mossel Bay
B3149
Wesley Wagner
Skydive on the Vaal
B3150
Gerard Lleopart Camps
Skydive Pretoria
B3151
Mark Hood
Skydive Parys
B3152
Dale Harris
Skydive on the Vaal
C1976
Charlene le Roux
Skydive Two Oceans

C1977

Kaylin Sanderson
Pretoria Military Parachute Club

C1978

Anthony Motshegwa
Skydive on the Vaal
D1004
Bryan Pather
Skydive on the Vaal

Ratings

JM1376B

Carin Meyer
Skydive on the Vaal

JM1377B

Anthony Matshegwa
Skydive on the Vaal

JM1378B

Jonathan Hattingh
Skydive Pretoria

JM1379B

Fuz Caforio
Skydive Pretoria

JM1380B

Mohan Chudalayandy
Skydive Pretoria

JM1381B

Marco Caforio
Skydive Pretoria
JM1382B
David Culverwell
Skydive Pretoria

PRO516

Jonathan Hattingh
Skydive Pretoria

PRO517

Anthony Matshegwa
Skydive on the Vaal

PRO518

Dylan Raffanti
Pretoria Military Parachute Club
I215
Andrew Yorke
Johannesburg Skydiving Club
I216
Arnold van Wyk
Skydive Mossel Bay
I217
Devan Brussow
Skydive Mossel Bay
I218
Charl Coleman
Johannesburg Skydiving Club
I219
Biela Liebenberg
Johannesburg Skydiving Club
I220
Braam Van Heerden
Skydive Mossel Bay
I176 (E)
Bev Cosslett
Johannesburg Skydiving Club
RP107
Christopher Koekemoer
Skydive Pretoria
RP108
Kevin Rielly
Skydive Plett
TM219SG
Henco Van Wyk
Skydive Mossel Bay
TM191SG
Bruce Askham
Johannesburg Skydiving Club
---
PASA is approved by SACAA as an Aviation Recreation Organisation (ARO). The SACAA has been working closely with PASA over the past year to ensure that our regulatory documentation complies with the requirements in Civil Aviation Regulations Part 149, which relates to the regulation of AROs.
The PASA Manual of Procedures (MOPs) must contain only the SACAA-required items that outline how PASA operates in compliance with Part 149. The document we all know as the PASA MOP has been corrected to reflect only this information. The SACAA-approved PASA MOP is available here.

PASA's basic safety requirements are now contained in a separate, stand-alone document - the PASA Standard Operating Procedures (SOP) - available here.
---
The PASA admin office will be closed from 22 December 2020 and reopen on 5 January 2021.
Wishing you all a joyous and safe festive season.


---