SSA elections coming up!
Nationals 2020
10th FAI World Cup in Canopy Piloting South Africa
PASA National Records
Diaz Beach Boogie 2019
2019 Summer Jol
March is National Safety Month
Licences and Ratings
YOUR SPORT NEEDS YOU!
The Sport Skydivers Association is involved in the administration, competition and skills development of our incredible sport. It's success relies on at least 3 committee members per discipline, planning and executing annual programmes to benefit sport skydiving.
If you are interested in helping your sport to grow and compete, please make yourself available for election for the 2020/21 year.
The committees are
* Artistic Events
* Formation Skydiving
* Canopy Piloting
* Canopy Formation
* Wingsuit Flying
* Style & Accuracy
Please send your name to ssaexec@para.co.za, along with the discipline you would like to represent, by Wednesday, 12 February 12 noon, if you are ready to make a difference.
---
---
JSC has been abuzz with all the plans and preparations for the National Championships in April 2020.

The grounds managers have been hard at work trimming grass, sorting water supply to the DZ for irrigation, upgrading the swoop pond and ordering in the bollards for the swoop course.

The first bulletin with more information will be out soon, so keep a look out for that on the PASA website.
The club is open for team training. You can book your team jumps by emailing manifest with your team members, number of jumps and load intervals.

JSC has a team training deal for Camera for the teams which is applicable for teams where all members have paid up club membership. For fees and details click here.

Please confirm this when you are booking your slots.

The camera deal is 100% free camera for 4-way teams and 50% of camera slot for 2-way teams.

We are very excited to start to see the CP competitors training over the pond, which is looking amazing, with the speed course and distance course graded and getting weekly prep and TLC to ensure this is going to be great for Nationals.

Looking forward to seeing you there.

The JSC Team
---
Photo credit: Riaan Bergh




The World Cup in South Africa (Pretoria) has been a Huge success for me from my point of view as a competitor. Skydive Pretoria did an amazing job.

Firstly, the weather was amazing which for sure makes everything easier and secondly the dropzone was open full time 2 weeks before which allowed the competitors to train as much as they wanted without rushing too much.The organisation was very well done also: Billy and Angie did an amazing job. In my opinion it was the best event overall since the DIPC in Dubai years ago.

On the personal side: I am mega happy about the win overall, that was my goal and I was only thinking about that all year long. The fight was really intense which makes it even more enjoyable. The distance world record (183 meters) on my Petra was the cherry on top of the cake. The winds at Skydive Pretoria could make this world record even further, I believe around 200/210 meters, but those winds were not there during the competition.

At least it keeps this record realistic for the next sea level competition in Tanay. I really hope Billy and Angie will organise again a World event in Canopy Piloting to go there again and to keep pushing the limit of this sport.

Cedric Veiga Rios


Photo credit: Peter Lawson


Photo credit: Andelle Schenach

Watch the world record here.
---
---
We often get questions about how PASA records work. There are details and intricacies that we leave to the judges and organisers, but below is a quick summary.
PASA follows the FAI record categorisation system – you can achieve a PASA National record in any of the record categories recognised by the ISC (International Skydiving Commission).

PASA also displays informal "records" for unrecognised categories, to recognise achievements and provide motivation to excel at all levels of the sport.

PASA follow the ISC's system of category retirement and record retirement.

When new criteria are introduced for an existing record category, a previously ratified record in that category will be retired unless it still meets the new criteria. The record remains valid, just not current.
If a category is retired, all records in that category are retied with it.
When a new category is introduced, there is no retrospective ratification of records in the new category; attempts can be made only once the category has been created.

PASA has some criteria differences to cater for the local context and logistics, but aims to match the intentions and processes that the ISC sets for FAI (International) records. For example, you must be a South African citizen and you don't need an FAI Sporting Licence, but you must be a current PASA member.
Every January, at the ISC Plenary, records are reviewed and may be adjusted, introduced or retired. Keep an eye out for new records and make it your goal to set the record, then keep breaking it.
For more details on our records and how to make formal attempts to break them and be recognised for it, have a look at the PASA Nationals Records document or for FAI World and Continental Records, FAI Sporting Code Section 5 (both to be updated in March when the ISC publish the 2020 changes).
Finally, to check out the current ratified PASA records and informal high scores and achievements, have a look at the PASA Records Page.
Now – go break some records!
---
| | |
| --- | --- |
| The Diaz Beach Boogie at Skydive Mossel Bay was a blast. While the weather was not always favourable, the popular Wilderness and Great Brak beach landings did not disappoint. It was great to see so many international skydivers attend, representing Germany, Switzerland, UK and a group of Russian skydivers. A big thank you to Naomi Kotzee, Julian Boulle, Claire King and Dirk Venter for load organizing and helping skydivers get their CAT tests and next licences. | |
| | We were also delighted to have Simba back, who orchestrated the FS Big Way Sequential 2 point, 14 way skydive. "Congratulations to everyone, including those behind the scenes /in the build-up jumps - Carol "Beaumont-Namibia-Hinton" , Tarina Lourens & Etienne (from 4-way to 14 way in under 7 days) and others. How nifty to have 2 *father-son duos* on the record (van Wyks & Groschs)!" – Claire King. |
| We'd like to extend a special thanks to Graham Watkins from Skydive Robertson for all his help with ground crew, transport and being the boogie journalist, commentator, movie director and all round good guy. See you all in December 2020. | |
---
---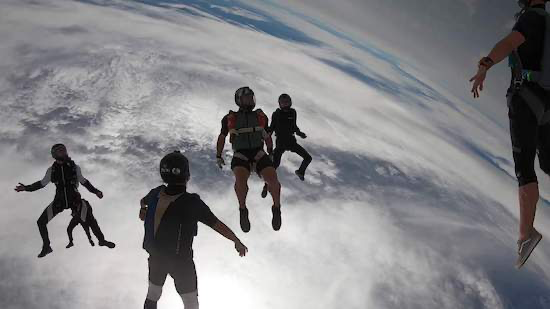 Photo credit: Christopher Teague


Shake, down and out with 2019 as we ended a great year with an epic boogie.
Summer Jol 2019 was the place to be: good friends, great vibes and even better skydives. From sunrise to sunset, Bailey and Yolandi made sure we turned points while Gregor led us going steep and fast.
Day 2 blue skies turned grey and plenty of low clouds rolled in but not even that could stop us from jumping. The low clouds allowed us to do some hop n pops from 3600ft and kept the smiles on our faces.
It's easy to entertain the crowd with a great swoop. Saving the best for last, watching the non-swoopers battle it out trying to land on an inflatable pink flamingo was the highlight everyone wanted to see.
And so another year has come and gone, celebrating our successes and achievements with the Bubbles and Bow Tie hangar party. Thanks, Skydive Pretoria for yet another unforgettable boogie going into 2020. We look forward to the next one!
Christopher Koekemoer, C1964
---
PASA drop zones will be organising activities to increase awareness around safety issues during March 2020.
Look out for notices at your drop zone and ask your Chief Instructor how you can get involved.
Safety is everything! Make it your business to learn something new about the safety aspects of your sport.
---
---
Licences

A7739
Dian Krahenbuhl
Skydive Mossel Bay
A7740
Jan Geel
Skydive on the Vaal
A7741
Emé Vermeulen
Skydive Parys
A7742
Pieter Stofberg
Skydive Mossel Bay
A7743
Andrew Munengo
Bloemfontein Parachute Club
A7744
Gabiel Matambo

Bloemfontein Parachute Club

A7745
Kalindo Evans

Bloemfontein Parachute Club

A7746
Martin Siame

Bloemfontein Parachute Club

A7747
Maybin Inambwae

Bloemfontein Parachute Club

A7748
Robert Mukandawire

Bloemfontein Parachute Club

A7749
Ruben van Zyl

Skydive Mossel Bay

A7750
Arif Hajee Abdoula

Johannesburg Skydiving Club

A7751
Michael Coltman

Johannesburg Skydiving Club

A7752
Andrew Malasa

Bloemfontein Parachute Club

A7753
Eddie Yula

Bloemfontein Parachute Club

A7754
Amando Kitvitts

EP Skydivers, Jeffreys Bay

A7755
Cameron Bouillon
Skydive Parys
A7756
Daniela Amorosino

Johannesburg Skydiving Club

A7757
Kaone Dominic Griesmier

Johannesburg Skydiving Club

B3132
Richard Bam

Durban Skydive Centre

B3133
Jaco Vermeulen

Skydive Parys

B3134
Jaco Coetzee

Bloemfontein Parachute Club

B3135
Blaine Camons

EP Skydivers, Jeffreys Bay

B3136
Michael Mackenzie
Durban Skydive Centre
B3137
Jan Swart
Skydive Pretoria
B3138
Florian Bohlandt

Skydive Pretoria

B3139
Loyane Epars
Skydive Mossel Bay
B3140
James Taylor
Skydive Cape Town
B3141
Nathan Amey

Durban Skydive Centre

B3142
Anthony Shuttleworth
Durban Skydive Centre
B3143
Louis van den Heever
Skydive Cape Town
C1966
Riaan Jacobs
Skydive Mossel Bay
C1967
Malin Kirjonen
Skydive Cape Town
C1968
Cayne McMahon
Skydive Two Oceans
C1969
Johan van Heerden
Skydive Pretoria
C1970
Harry Laing
Johannesburg Skydiving Club

D997

Travis Grosch
Skydive the Farm

D998

Andre Fourie
Skydive Mossel Bay

D999

Andrew Yorke
Johannesburg Skydiving Club

D1000

Willem van Tonder
Skydive Mossel Bay

Ratings

JM1367

Christopher Koekemoer
Skydive Pretoria

JM1368

Anna Chirkova
Skydive Mossel Bay

JM1369

Neels Havenga
Skydive Mossel Bay

JM1370

Willem van Tonder
Skydive Mossel Bay

JM1371

Cayne McMahon
Skydive Cape Town
JM1372
Malin Kirjonen
Skydive Cape Town
JM1373
Reinhardt Fourie
Skydive Cape Town

PRO510

Jorrie Jordaan
Johannesburg Skydiving Club
PRO511
Thys Grove
Johannesburg Skydiving Club
PRO512
Alan Hosmer
Durban Skydive Centre
TM215ST
Jorrie Jordaan
Durban Skydive Centre
TM216SG
Cayne McMahon
Skydive Cape Town
TM217SG
Willem van Tonder
Skydive Mossel Bay
---