P3 – Big Way Camps & Spring Fling – May 2018
SSA Event at Parys
Sakhele Tyakume - Sakkie - now tandem instructor
Peter Lawson Cup 2018
Diaz Beach Boogie 2018
Summer Jol 2018
Licences and Ratings
There are only a couple of places where one can have the opportunity to learn big way formation skydiving but P3 at Skydive Perris (California, USA) takes it to new heights every year. This was my second trip to Skydive Perris for big way camps after attending last year's Big Way Camp and 100-Way Camp.
| | |
| --- | --- |
| Photo credit: Luciano Bacque | Big Way Camp had nearly 120 participants from nearly 30 countries. The camp started with 20-ways on day one, moved to multi-plane 30-ways on days 2 and 3 and 40-ways on day 4. Of the 18 jumps we did, everyone had a shot at being float, base, diving and long diving. Since this was a camp, the focus was on learning and never on completing the formation. |
Next came the 100-way camp. Even though I attended this camp in 2017, we didn't have 100 participants then. Due to a few countries attempting their largest formation record, we had 110 participants this year. The selection for this event was based on the performance on the Big Way Camp and having been selected I was looking forward to day 1 with a few 40-ish ways. How wrong I was. Jump 1 was a 110-way attempt from 5 Skyvans. At the end of day 1 and 4-jumps, most sectors had their completion and we were looking forward to the remainder of the camp. Then came our friend WEATHER. We lost 12 of the remaining 13 jumps, and the camp finished off with great memories and learnings, but no completion of 100-way. I was fortunate to jump with two very familiar faces (Norman Langeveldt and Trevor Hawkins) from South Africa in these two camps.
Photo credit: Craig O'Brien
Apart from those two camps, I put my name in for the next event. The Spring Fling is an invitational 64-way yearly event, which combines big-way skills and 4/8-way skills. The selection was based on the performance at the 100-way camp and FS competition experience, and with weather writing-off most of the jumps I was planning to return to work early. When Dan BC informed me that I was in, it took all my acting skills to remain cool. But, I knew this was not a camp and the formations were not going to easy. We started with a 2-point 64-way with complete break, and things got interesting as the formations got trickier one after another. Of the 6-odd different formations, we could only manage the completion of 2 formations.
Photo credit: Luciano Bacque


I would like to thank all the P3 coaches (Dan BC, Kate Cooper-Jensen, Doug Forth, Larry Henderson, Christy Frikken and Scott Latinis), camera team led by Craig O'Brien and my South African coaches who introduced me to 4-way, 8-way and big-way fundamentals.

I almost forgot to include: with 4 tunnels within a 50-mile radius, it would be a sin to miss out on a few hours of FS tunnel time. I even had 30 minutes as Outside Center on a 4-way, which was a first for me.
If you are interested in 2019 P3 camps, please contact me or visit p3skydiving.com as it looks like we may have a few more travelling from SA than this year.
Mohan Chudalayandy
D929/CH162F
Photo credit: Craig O'Brien
---
Dont miss out!!! Skydive Parys is hosting another skills camp. Secure your slots now!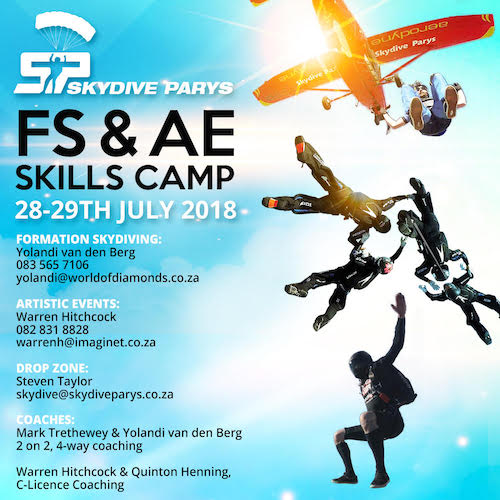 ---
For further information please contact:
(031) 502 6435
aneesa@flyaerodyne.com
www.flyaerodyne.com
---
Sakkie, now amongst the small group of South African black tandem instructors, is originally from King Williamstown in Eastern Cape. Sakkie (42) did his first static line jump at EP Skydivers in Grahamstown 15 years ago in July 2003, three months after he started working there in April 2003. After a short time working in Knysna, he came to work as a packer at Skydive Mossel Bay in September 2014. By that time he had 214 jumps under his belt and his A licence.
He was determined to keep skydiving and to progress further to get his B licence. In 2015 he received a sponsorship award from the Aero Club and PASA that helped him to get his B licence and work towards the jump master rating which he got in 2016. He realized that it could be possible to go all the way and talked to Henk Van Wyk, DZO at Skydive Mossel Bay, about the possibility of, one day, becoming a tandem instructor. He pushed ahead and dedicated the next two years progressing to a C licence, competing at Nationals and joining boogies where he could get his big way requirements. In 2017, he got his D licence and in November 2017 he got his tandem instructor rating. Today, Sakkie is a fully qualified member of our tandem instructor team.
When asked how he feels about being a tandem instructor now, he said, "I'm enjoying the work as tandem instructor but it's serious now because of the increase in responsibility and it's not just about me anymore."
Sakkie's next career move is to get his FS coach rating and will be going to Prague for tunnel work in July 2018. His long-term goal is to get his AFF instructor rating, which will be another first for South Africa. Well done Sakkie, who adds, "Thank you to Henk that helped make this possible and to the members and staff at Skydive Mossel Bay for the support and encouragement. I am very grateful to Aeroclub and PASA that helped me with funding."

---
---
Skydive Pretoria is hosting the Peter Lawson Cup from the 22nd to the 24th of September 2018. Register now. Also, if you would like to participate and you don't have a team, please contact Ange - we will help you find a team.
Prizes will be announced soon. Follow the event here.
The following categories will be part of the competition:
FS 4 way Open: randoms only
FS 4 way Intermediate: randoms only
FS 2 way junior/senior match up
FS 8 way speedstar
AE 2 way VFS junior/senior match up: AE SSA sponsoring 50% of camera slot and Skydive Pretoria the other 50%
Wingsuit Novice and Open Performance: 3 Rounds one of each will be: Speed, Distance and Time. If you win the round, the SSA Wingsuit Committee pays for your round.
Chief judge is Mohan Chudalayandy. If you have questions regarding the match up you can ask him.
---
---
Start planning now!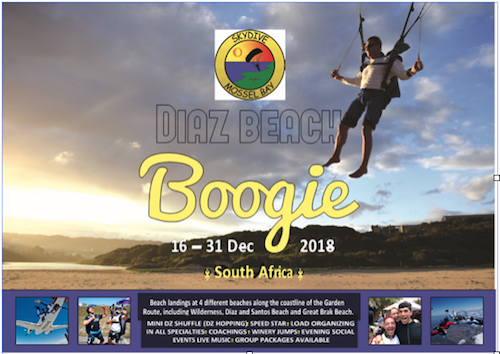 Diaz Beach Boogie 16th to 31st December 2018 at Skydive Mossel Bay.
Skydivers at all levels are welcome, including progression students, A licence holders and higher. There will be jumps from 14,000 feet, 4 different beaches, brilliant prizes, live bands, inflatable boat jumps, lots of beer, good food and good friends.
What you can expect:
DZ Shuffle to Skydive Oudtshoorn for lunch n punch.

Diaz Beach landing and pool party.

Santos Beach landing and boat booze cruise.

Wilderness Beach landing and breakfast at Beejuice Café.

Groot Brak Beach landing with dinner at Vette Mossel (eat as much as you can).

International as well as South African load organizers.

Freefly and FS coaches.

Visiting skydivers from all around the globe.
If you can, book your accommodation now! Mossel Bay will fill up fast in December and the early bird gets a bed.
We will be sending out details of registration fees and packages as well as information on accommodation. If you want to be kept in the know about the boogie developments and specials, please email Monica so we can add you to the mailing list.
---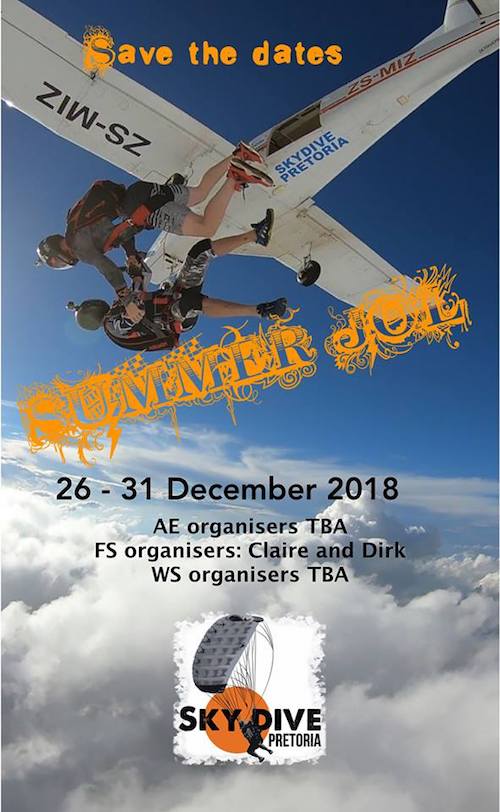 For more information, email Ange
---
Licences

A7669
Paul Putter
Durban Skydive Centre
A7670
Fernando Cima
Skydive Rustenburg

A7671

Steven MacTaggart-Short
Skydive Parys

A7672

Ruben Rheeder
Johannesburg Skydiving Club

A7673

David Weston
Durban Skydive Centre

A7674

Mokate Queen
Johannesburg Skydiving Club

A7675

Vibin Dev
Skydive Mossel Bay

A7676

Josh van der Westhuizen
Skydive Mossel Bay

A7677

Gerald Hayter
Durban Skydive Centre

A7678

Rob Cameron-Smith
Skydive Parys

A7679

Andrew Mcleish
Durban Skydive Centre

A7680

Louis van den Heever
Skydive Mossel Bay

A7681

Ross Roets
Johannesburg Skydiving Club

A7682

Astra Downton
Johannesburg SKydiving Club

A7683

Anthony Shuttleworth
Durban Skydive Centre

A7684

Derek Krasser
Skydive Robertson
B3084
Le-Ann Prinsloo
Skydive Pretoria
B3085
Celine Hietbrink
Skydive Pretoria
B3086
Hendrik Pelser
Johannesburg Skydiving Club
B3087
Kirshin Naicker
Johannesburg Skydiving Club
B3088
Kudzai Sean-Snowie Huni
Skydive Parys
B3089
Marc Malinsky
Skydive Pretoria
C1938
Lynsey Houston
Johannesburg Skydiving Club

C1939

John du Plessis
Skydive Pretoria

D984

Jorrie Jordaan
Durban Skydive Centre

D985

Elmarie Grobler
Skydive on the Vaal
D986
Steven Taylor
Skydive Parys

Ratings

JM1339

Yolandi van den Berge
Skydive Pretoria

JM1340

Steven Taylor
SKydive Parys

JM1341

Calvina Brian Strickland
Durban Skydive Centre

JM1342

Anchen Martens
Durban Skydive Centre

PRO498

Greg Waspe
Johannesburg Skydiving Club

TM196ST

Josie Cotzee
Skydive on the Vaal

TM197ST

Tegan van Zyl
Duban Skydive Centre

TM198SG

Johan Greyling
Skydive Pretoria

TM163SG

Stefan Griesel
Johannesburg Skydiving Club
CH181F
Chris Badenhorst
Johannesburg Skydiving Club
---