SA Nationals 2018
SA Canopy Piloting Nationals 2018
Autumn Festival - AE and FS in full swing
8 Way Skills Camp with Simba
Your website needs you!
Licences and Ratings
Rustenburg Skydiving Club hosted SA Nationals again this year, a month earlier than usual, bringing warmer weather for those early loads, campers and evening stayers.
The excitement lay in the 4-way Novice this year, with 5 teams battling for the trophy that carries so much South African FS history on its plaques.
Team Bootielicious. Photo credit: Bernard Janse van Rensburg
Bootielicious quickly settled into their stride with an enviable calm evident in their flying style and took an early lead. Flying close and cool, they delivered a bust-free round 1 and 2 but were dealt a heavy blow when round 3's quick-and-still draw caught them out, causing them collect 5 separation busts. Their recovery was swift and focused, flashing like pros for the rest of the meet, and delivering completely clean rounds for the rest of the meet to convince us all that they really did deserve that gold medal.
With 3 teams from JSC and 2 from PSC, from a broad range of experience, training and goals, we hope to see bumper Intermediate and Open 4-way entries at Nationals 2019.
The highlights for me were:
The winning 4-way Novice team had no tunnel time. Of course, tunnel is a very important tool for competitive skydiving these days. But this team showed that there are many important tools and that tunnel is just one of them. A win-by-creeper-pad, a win-by-mental-training, a-win-by-commitment? What this team proved is that there are many ways to skin a cat. Experience, airtime and tunnel are advantages, what you really need is just enough hunger!
Quality camerawork is finally being noticed and appreciated. In every discipline, video is critical and the requirements are specific and vastly different. In FS, camera angle and distance are critical. Tandem camera perspective on an FS competition round is a bust-a-thon. In the Artistic Events, camera interaction, dynamism and spontaneity are key. A cameraman's flying skills can make or break a team's meet. Nationals 2018 showed this in the results, and many teams found new appreciation for their (or their opponents') camera flyers.
The organisers. The RSC team was once again incredible. Accommodating, good natured and tireless, they bent over backwards to meet even the most unreasonable requests. I don't think Danelle Field or Herman Grobler slept during Nationals and everyone appreciated the energy and effort from RSC's leadership and team.
Full results can be found on InTime Scoring.
Train hard. Get excited. The road to Nationals 2019 begins NOW.
Claire King, D863
---
South African Canopy Piloting Nationals 2018 was hosted by the SSA CP Committee during Skydive Pretoria's Autumn Festival.
We were blessed with great weather over the long weekend 27th April to 1st May.

With 5 competitors in Open of which 3 came from overseas for the meet, and 2 competitors in Intermediate we managed to finish the competiton on the Monday.

It was exciting to witness the tight competition amongst the competitors. A close race was taking place between Christopher Teague and Matteo Pagani which kept us all in suspense until the very last second at the closing ceremony.


Photo credit: Severine Pignier

We would like to thank Stefan Willi, Tim Jones and DeWet Davel, for coming out all the way to South Africa to participate.

The results for the SA CP Nationals 2018 can be found here.

With next year in mind, the SSA CP Committee is very excited to see CP grow in South Africa.

Keep your eyes open for MiniMeets and Coaching days.
---
---
SSA Formation Skydiving at Skydive Pretoria's Autumn Festival
On 27 & 28 April 2018, Skydive Pretoria played host to a very popular SSA sanctioned C and D licence day for formation skydivers. Participants on both the Saturday and Sunday enjoyed spectacular weather and learnt a lot whilst trying to fulfil their licence requirements.
On the Saturday the goal for C-licence candidates was to achieve a 5th or higher dock on 5 jumps as well as an eighth dock on one of the jumps. To give candidates their best possible chance of achieving their dock they were paired with 4 experienced FS jumpers as a base for the anticipated 8way. Due to the popularity of this day we had two 8way groups, promptly named: The Other Knights (as opposed to the Golden Knights) and Fatti's and Moni's (because The Other Knights did the naming).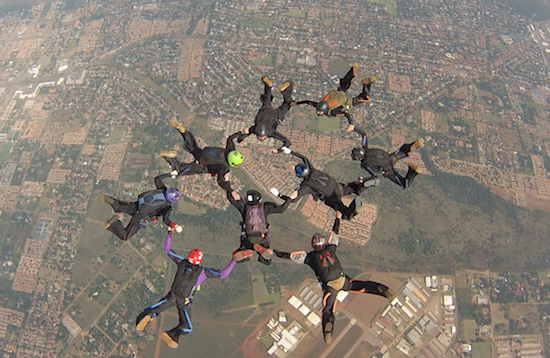 Photo credit: Bailey Edmunds


Despite one exit "frommel" (Tsk, tsk coaches) all the candidates on The Other Knights achieved their full C-licence dock requirements and even got to a second point on one of the jumps. This gave them the opportunity to try (and unfortunately fail at) a more ambitious 8way block move on their 5th jump. Fatti's and Moni's also managed to achieve a lot of the candidates' 5th and higher docks. All round it was a day of fun, safe and disciplined jumps.
The more formidable D-licence requirement of flying a 10 way through 3 distinct non-sequential points was left for Sunday. With 6 candidates, only 4 coaches and three jumps to make the attempt, success seemed unlikely. However, Skydive Pretoria's aircraft had just got a brand-new step that helped enormously with the previous day's 8ways and we got a little bit more than the usual 11000ft to work with.
After 2 failed attempts at even building a 10 way, things looked bleak. Everyone regrouped and with newfound determination pulled it off on the third attempt. Everyone did an excellent job and we managed to do the third point with time to spare for some knee flying shenanigans!

On both days candidates flew well and impressed both the coaches and themselves. Congratulations to all the candidates! Many thanks to the SSA and Skydive Pretoria for making the day possible, especially Yolandi van den Berge, Mohan Chudalayandy and Bailey Edmunds for all the organising.

Nico Hickley, D953

◊ ◊ ◊ ◊ ◊

From the 27th of April to the 1st of May 2018 Skydive Pretoria in collaboration with the SSA hosted a free fly skills camp at the Autumn Festival.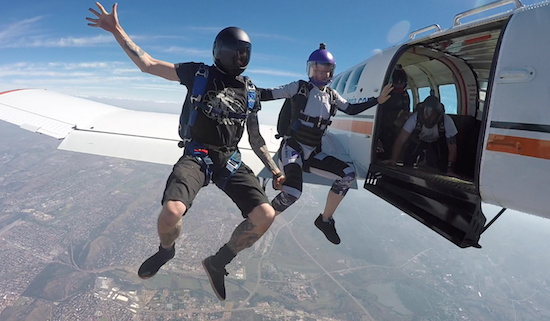 Photo credit: Naomi Kotzee


Skydive Pretoria covered 50% of the AE coach slots for the event which goes a long way to help SSA funds reach as many members as possible!
The coaches were Naomi Kotzee and Braam Van Heerden.
One of the main objectives of the camp was to teach the students to jump safely in bigger groups. The minimum requirement for participating in the group jumps was that the student had to have a CATIII in AE. Some of the group jumps allowed students to work on their AE C licence requirements and Johny Kruger and Ilke Greeff successfully completed their first C licence jumps respectively.

Before the camp and in between the group jumps students also received individual coaching and Jana Niemoller and Travis Grosch both completed their CATIII in AE.

Overall 9 freefly students attended the camp and this is very promising for skill development of freeflying in South Africa!

Stay tuned for the next SSA event!

Maryke Prinsloo, C1854
---
For more information contact the Aerodyne Parachute Factory:
(031) 502 6435
aneesa@flyaerodyne.com
www.flyaerodyne.com
---
Simba will be back at Skydive Mossel Bay on the 2nd & 3rd June 2018 to organise some good quality 8-way.
If you are an FS sport jumper looking for licence requirements or just to join in some fun FS, this is for you.
Just pop us a WhatsApp on 082 824 8599 or email us to let us know that you are coming.
There will also be coaches on hand to assist you to make the grade.
All welcome.
---
---
PASA's website will soon sport a new, fresh look with updates to allow it to cater for smaller screens.

We are calling on camera flyers who have good quality high res images taken at PASA drop zones, and are happy to share them with the world, to submit them for use on the website.

We need images of the various disciplines (formation skydiving, artistic events, canopy formation, accuracy landing, canopy piloting and wingsuiting) and the training methods (AFF, static line, tandem) as well as demonstration jumps.

Send images to admin@para.co.za
---
Licences

A7659
Le-Ann Prinsloo
Skydive Pretoria
A7660
Michael Visser
Durban Skydive Centre

A7661

Thys Visagie
Durban Skydive Centre

A7662

Stefan Rawlins
Skydive Pretoria

A7663

Victoria van der Schyff
Skydive Pretoria
A7664
Tesra Collins
Skydive Pretoria

A7665

Jaco Coetzee
Skydive Parys
A7666
Viral Shah
Johannesburg Skydiving Club
A7667
Christo Fourie
Skydive Pretoria
A7668
Niel Wessels
Skydive on the Vaal
B3075
Devon Brussow
Skydive Mossel Bay
B3076
Elmien Greyling
Skydive Pretoria
B3077
Brittney McLellan
Skydive Pretoria
B3078
Clinton McLellan
Skydive Pretoria
B3079
Zurika Bleeker
Skydive Pretoria
B3080
Amos Motshegwa
Skydive on the Vaal
B3081
Malin Kirjonen
Skydive Robertson
B3082
Pierre Schelhase
Skydive Robertson
B3083
Harry Laing
Johannesburg Skydiving Club
C1930
Dylan Raffanti
Skydive Pretoria

C1931

Greg Fletcher
Johannesburg Skydiving Club

C1932

Neels Havenga
Skydive Mossel Bay

C1933

Hennie van Zyl
Skydive Robertson

C1934

Carolyn King
Skydive Robertson

C1935

Christo Myburgh
Skydive Pretoria

C1936

Hilmar Backer
Skydive on the Vaal

C1937

Travis Grosch
Johannesburg Skydiving Club

D982

Liza Hietbrink
Skydive Pretoria

D983

Biela Liebenberg
Skydive on the Vaal

Ratings

JM1338

Greg Fletcher
Johannesburg Skydiving Club

PRO496

Hilmar Backer
Skydive on the Vaal

PRO497

Chris Badenhorst
Johannesburg Skydiving Club

TM195ST

Aimee Southwell
Johannesburg Skydiving Club

TM183ST

Tony le Roux
Skydive Secunda
CH178W
Gert-Louis Cilliers
Johannesburg Skydiving Club
CH179F
Brendon Nortier
Johannesburg Skydiving Club
CH180F
Charl Coleman
Johannesburg Skydiving Club
---