A Chinese Star with South Africans involved
South Africa needs CP judges - are you in?
Gauteng Summer Jol - December 2017
Nationals is Soon - Get your training in!
South Africa is hosting FAI CP World Cup 2019
Licences and Ratings
In October 2017, a group of 45 skydivers from 8 countries attended the World Fly-In Expo in Wuhan, China. South Africa was represented by Amy Kirtland and Paul Marcellin (Simba). According to Simba, there were more ties to South Africa in this selected group of skydivers:
Those with South African accents: Amy Kirtland, Kevin Schaefer, Paul Leslie-Smith, Solly Williams and Simba
Additionally: Hari Ganapathy (UK) spent 4 years in SA at the beginning of his skydive career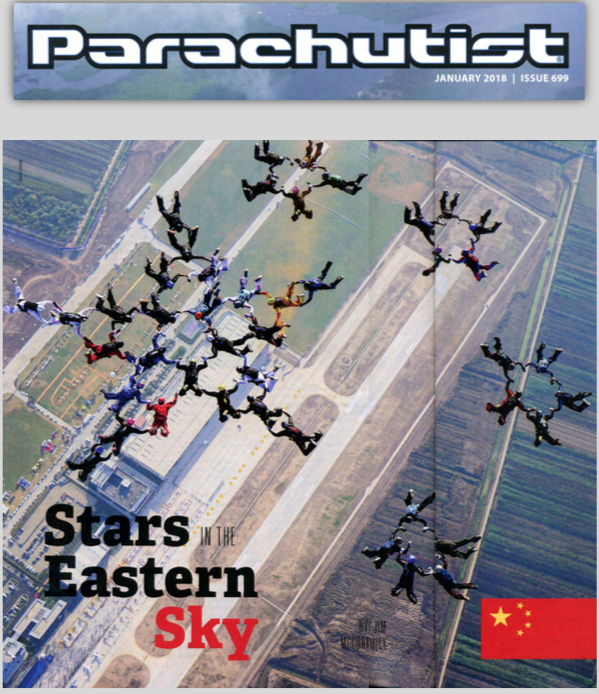 To read the full article that was published in the Parachutist Magazine click
here
.
We would like to thank the Parachutist Magazine for allowing us to publish the article written by Jim McCormick as well as credit the photos of Ralph Wilhelm, Stephen Tonson, Zach Lewis.
---
The CP committee is looking for people that are interested in Canopy Piloting but are not planning on competing. We need CP judges desperately. We have been raising funds to get an international judge to come to South Africa to hold a judging course. We are looking at holding the judging course shortly before and during CP Nationals which is taking place at PSC from the 27th of April to the 1st of May.
If you are interested in becoming a CP judge, please let me know: angempierry@gmail.com
---
---
Summer Holidays: Boogies at the beach, beers with friends after a hot day skydiving and of course the traditional New Years Eve party and bonfire . This was how I spent my last 3 December holidays.
However after neglecting the family for 3 years in a row I agreed to spend Christmas in JHB this year expecting all the drop zones to be closed....Enter the Summer Jol Boogie.
PSC hosted the first inland December boogie in years. They arranged top level load organisers in all disciplines and as a bonus it seemed many of my Gauteng based friends would be attending. The holidays were looking up.
PSC has the best sunsets - Dylan Hemer
I spent most of the boogie wingsuiting, when you have the opportunity to skydive with someone like Julian Boulle you make the most of it. The skydives were challenging but everyone was having fun and learning. Fast, dynamic and steep flying was the goal and control was needed to keep things safe. This style is a current trend in wingsuiting, influenced by top level freeflyers who have taken up the discipline in the past few years.
There were a few weather holds during the boogie with wind and highveld thunderstorms paying the DZ a visit resulting in some amazing sunsets. The down time was not wasted with "Corn in the Hole" teams facing off and a slack line being rigged. The slack line thankfully did not result in any injured skydivers and many people managed to progress from balancing with assistance to taking multiple steps. Throughout the boogie raffles were also held with prizes including jump tickets, coaching and an action camera.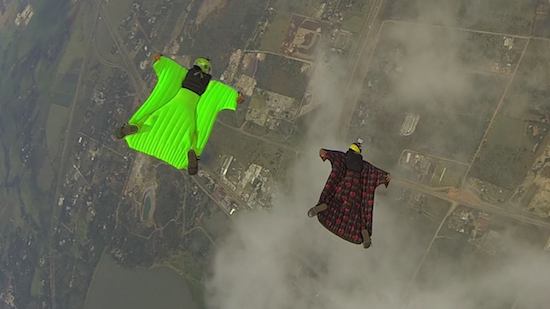 Waldo and Julian carving a cloud - Dylan Hemer
A few days into the boogie and the wingsuit group got introduced to XRW. This was new to many of us and we were lucky to have Max Manow and his tiny Petra to fly with. Max was super chilled and was calling people to try take docks from the 2nd jump. The XRW jumps were lots of fun with cool visuals and a slow fall rate resulting in lots of working time to take it all in. I ended off the boogie with a few FS jumps to jump with friends and that was it for skydiving in 2017.
XRW - Dylan Hemer
PSC put on a fun New Years eve party to end off the boogie with a DJ, lasers, bonfire, braais and beers flowing. My December boogie experience may not have included a beach this year but it was still a proper Jol.
Dylan Hemer, D965
---
Nationals is coming up very soon. Mark the dates in your calendar: 28th March to 2nd of April 2018 in Rustenburg and start planning how best to get your training in - it is already February!!! Here is what the different clubs offer:
Rustenburg Skydiving Club
4way Teams if you book 10 slots per team your cameraman gets 5 of his jumps free thats a value of R1550
8 way Teams get your camera slot free at all times.
2way Teams only pay R200 per camera slot
FreeFly Teams go to 13000ft for only R310 per slot.We are busy with oxygen arrangements.
We can do weekday training if there is atleast 1 4way team and 1 2way team and minimum of 6 jumps a day.
To Manifest just sms / Call or Whatsapp 0793457058 or email:skydive.rustenburg@gmail.com
Johannesburg Skydiving Club:
4 & 8 Way Teams:
Manifest and pay for 10 team jumps and your camera guy is on us!!!
2 Way Teams:
Manifest and pay for 10 team jumps and we will cover 50% of your camera man.
The special is for all registered teams and is valid up until Nationals. This is not limited to amount of jumps done in a month or a weekend.
Take advantage of the special and get your training done ASAP
Pretoria Skydiving Club
We would like to support our members that are planning to go to Nationals or other competitions (all team members have to be club members to receive the discount for the team). So for the whole year of 2018:
• 4 way teams: your camera man is on us
• 2 way teams: we cover 50% of your camera person's ticket
• freefly/freestyle teams: if you buy a 30 jump ticket bundle up front for your team: we will give you R20 per ticket off (30 jump bundle is R8400 for the team)
---
---
| | |
| --- | --- |
| | The SSA CP committee is proud to announce that we will be hosting the 10th FAI Canopy Piloting World Cup 2019 from the 19th to the 24th of November 2019 at Skydive Pretoria. |
---
Licences

A7631
Gianni Macri
Skydive Mossel Bay
A7632
Werner Jonck
Johannesburg Skydiving Club

A7633

Blaine Camons
EP Skydivers J Bay

A7634

Gregory Arago
Skydive Mossel Bay

A7635

Malin Kirjonen
SKydive Robertson

A7636

Paul Kotze
Skydive Robertson

A7637

Ché Freese
EP Skydivers J Bay

A7638

Kudzai Sean-Snowie Huni
Skydive Parys

A7639

David Gardinieri
Skydive Mossel Bay

A7640

Maurice Spilsbury
Durban Skydive Centre

A7641

Jacques Botes
Skydive Parys

A7642

Andre Bornman
Skydive Parys

A7643

Werner Winterboer
Pretoria Skydiving Club

A7644

Tiaan Jansen van Vuuren
Johannesburg Skydiving Club

A7645

Thuso Ben Modise
Skydive Rustenburg
B3058
Candice-Lee Holder
Skydive Robertson
B3059
Quentin Morel
Pretoria Skydiving Club
B3060
Nicholas Cremonte
Skydive Robertson
B3061
John du Plessis
Pretoria Skydiving Club
B3062
Janco Barnard
Skydive Parys
B3063
Reuel Bosch
EP Skydivers J Bay
B3064
Riaan van Zyl
EP Skydivers J Bay
B3065
Renier Jansen
Skydive Parys
B3066
Gary Berkowitz
Johannesburg Skydiving Club
B3067
Christo Myburgh
Skydive on the Vaal
C1924
Antonie Swarts
Skydive Mossel Bay

C1925

Jan Delahaye
Skydive Cape Town

C1926

Tegan van Zyl
Durban Skydive Centre

Ratings

JM1336

Jana Niemoller
Johannesburg Skydiving Club

JM1337

Munyaka Wadaira Makuyana
Johannesburg Skydiving Club

PRO495

Tegan van Zyl
Durban Skydive Centre

TM190SG

Jan Delahaye
Skydive Cape Town

CH177F

Yolandi van den Berge
Pretoria Skydiving Club
---