The Wonder of The World Games
Aero Club Annual Awards Nominations
SSA CP Skills Camp and MiniMeet September 2017
Kulula allows parachutes as hand luggage
Upcoming Events
Year-end jumping
Licences and Ratings
The World Games, 4000+ athletes, 111 countries and 30 different sports, one of those being Canopy Piloting.
Undoubtably the biggest sporting event that no one has ever heard of, The World Games, acts as a precursor to the Olympics. Take 7's rugby for example, prior to being in the Olympics it was a World Games event. For skydivers it's the biggest stage we ever get in the competition circle, literally a fabled all expenses paid trip to do what we love.
Canopy Piloting is the only sport representing skydiving at the Games, and I was lucky enough to secure a spot. This World Games was hosted by the beautiful city of Wroclaw, the Venice of Poland.
| | |
| --- | --- |
| Getting used to sea level swooping is essential for us Vaalies, so I decided to go through 2 weeks early in an attempt to get 70 training jumps before the Games. In typical style we had bad weather and plane issues, none the less 40 jumps were managed and I had just begun to feel slightly more comfortable at that altitude. I did manage to try some of the local food and Vodka during the off days, and the one shooter a Mad Dog, Vodka+Raspberry+Tabasco is a great way of getting the night started. | |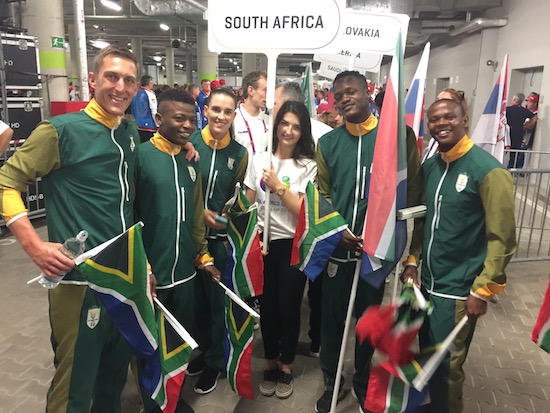 Next it was time for the opening ceremony at Wroclaws largest stadium. We met with the South African delegation in the basement and watched on a massive projector until it was our time to walk out. The vibe was incredible but no partying that night as competition began the very next day.
It was then time to compete, the competition was different in 2 ways, firstly the scoring system, but more importantly an extra event was added, the dreaded freestyle. It was only dreaded as it was an event I had basically zero training in.

In competition you have got to get used to the ups an downs, often you are just unlucky, like our second round of distance. Unfortunately we were the only load on the second round to have a head wind which meant the best score of the load, 115m, was the lowest of the following day second round loads 2&3 as there was a strong tail wind. If you cannot make peace with the idea of being unlucky from time to time then CP is not for you.

In terms of the actual competition, accuracy and speed let me down with a couple of bad rounds, distance was great as one of my runs was a personal best at sea level of 136m , which has also become the continental record for Africa, but the most feared event, Freestyle, turned everything around for me.
Freestyle works like this, you get a "Drama Sheet", which is a piece of paper in which you have to write down your planned moves for each of the rounds. Round 1 needs to be a single move from the easy to moderate category and cannot be a combo, my weapon of choice was the classic "Lazy Boy", building on top of this for rounds 2 and 3 I decided to put in some combo moves I had never ever attempted! Smart Right? Round 2 was a combo of "Lazy Boy" + "Ghost Rider" pictured below and for Round 3 was a "Lazy Boy"+"Ghost Rider"+"Double Cowboy". Finally it clicked into place, I didn't over think and there was no pressure because I had not trained, the goal was to Go Big, and have fun! Having fun was exactly what I did and round 3 was best score for any single round, placing me in 12th position for that round! I wish I could describe the happiness after that round, the last round of FreeStyle was my last round of the comp and I could not have asked for a happier ending.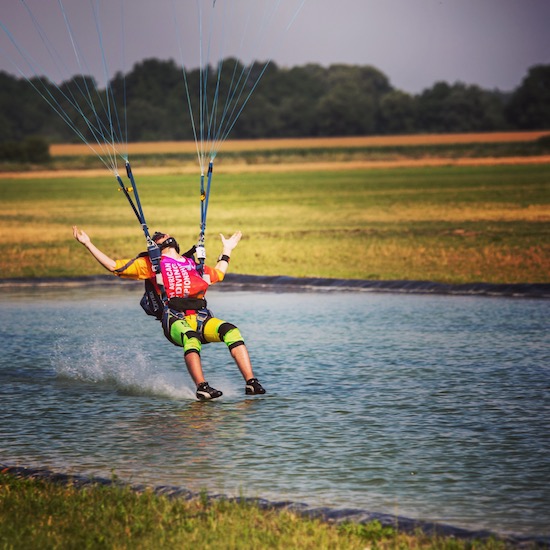 It was then time for the closing ceremony at the DZ and suiting up has become a tradition for the after party, may the good times roll!
Overall the learnings were massive, these events put you in a position to make friends from all over the world, learn new tips and tricks fun terms of flying as well as some gear changes to make life easier. I would really recommend that if Canopy Piloting interests you, lets chat, it can really open up a whole new world.
Again a massive thank you to everyone who has supported me to this point, including my friends & family both at home and Skydive Pretoria and my sponsors, Parachute Systems, Fluid Wings and Bertrand Adrenaline and of course PASA & SASCOC for all their organization.
Big Love
Matteo Pagani, D943
---
The AeCSA Annual Awards Function will be held on 4 November 2017.
The Aero Club are calling for sections' nominations for awards. Review the nomination process and categories and, if you would like to nominate someone for an award, submit a citation of 100 words together with photos, to the PASA Management Council by no later than 26 September 2017.
The venue and cost are still to be confirmed but, if you are interested in attending the awards dinner, contact the admin office.
---
---
From the perspective of a pond virgin:
"It's just water right? Can't be that scary." That is what I always thought before my first attempt on the course. But it's all quite a bit different.


On the 9th/10th September 2017, Pretoria Skydiving Club held a coaching/MiniMeet weekend at Wonderboom for aspiring canopy pilots and experienced guys looking to better their game. Billy Sharman and Matteo Pagani were lending their coaching eyes to help better even the most modest of swoops.

I was just starting to get my 90 turns nice and signed up for the MiniMeet. And man did I learn heaps!

Saturday was a coaching day with Billy and Matt checking out each of our landings and sometimes more importantly our setups. They basically gave us one-on-one coaching while we reviewed footage. I found it insane how you change one small thing, and all the pieces fall into place.

The coaching and advice the guys gave was invaluable and really helped me get stoked on my canopy all over again but more importantly they coached in a way that made safety absolutely paramount. We ended the day with a no pressure swoop and chug with everyone having their best landing of the day.
On Sunday it was time to swoop the course. The more experienced guys made it look so damn easy but once you are up there setting up for your turn, the pond becomes a very different beast! It took the rookies a little while (2 jumps) to actually dial in the setup but on the third try most of us got the gates and got into the landing zone with some points, which I doubt would have happened without the coaching and pointers given by Billy and Matt.
I left Pretoria with a new found love for piloting my wing and a huge respect for setting up a landing. Thanks to everyone involved and huge thanks to Billy and Matt for lending their experience. Weekends like these will surely grow swooping in South Africa but more importantly, make it a safer, more structured discipline.
Luke Godfrey B2934
From the SSA CP Commitee perspective: For us, it was an incredibly proud weekend. It was great to see so many people attending and participating. The CP Committee would like to thank Skydive Pretoria for sponsoring the coaching by Billy Sharman. We are working with him to create a safe environment in Canopy Piloting.
We are proud to annouce the winners of the MiniMeet September 2017. In Open Canopy Piloting we have Christopher Teague in 1st place and Matteo Pagani in 2nd place. In the Intermediate category we have Quinton Henning in 1st place, Marcel Vliegenthart in 2nd and Bernard Van Rensburg in 3rd place. Congratulations guys.
It was very fulfilling to watch everybody fly the course safely, although we added the competition component. We are planning to host up to 4 Skills Camps and MiniMeets a year. So keep your eyes open for the dates.
---
---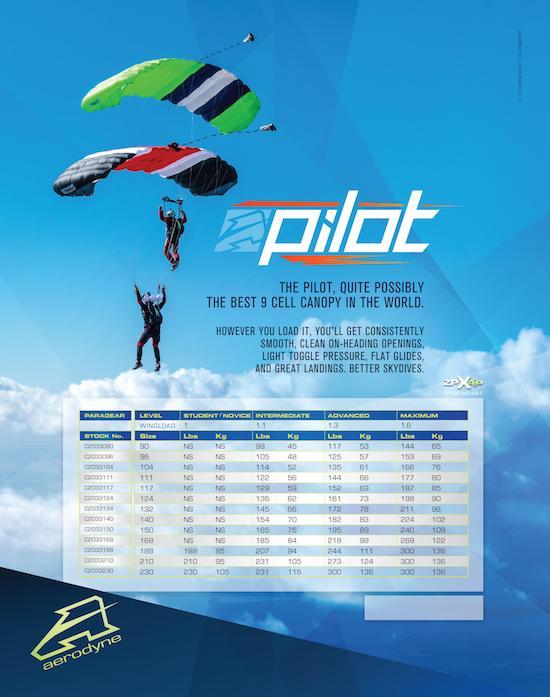 For further information please contact:
ned.luker@gmail.com / ned@flyaerodyne.com
031 502 6435
---
Get registered for South African Canopy Piloting Nationals 2017
Register for the Peter Lawson Cup. Even if you do not have a team and would like to compete, please contact Pretoria Skydiving Club and they will try and match you up. Gain some competition experience!!! info@skydivepretoria.com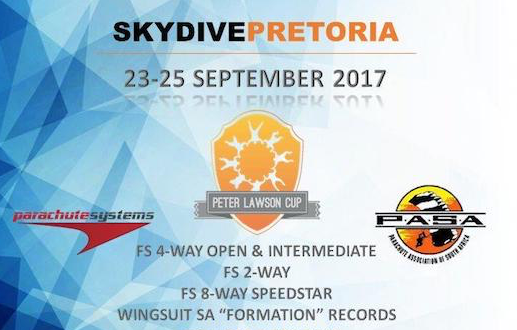 ---
At the Ground Rush Boogie there are different skydiving packages available:
| | |
| --- | --- |
| Package 1 N$ 6700 (No Accommodation) | Includes: 20 Jumps, Registration, T-Shirt and 10% off any adventure activities in Swakopmund |
| Package 2N$ 8800 (NB: 6 People Sharing a Unit) | Includes:20 Jumps, 10 Nights Self-catering accommodation, Registration, T-Shirt and 10% off any adventure activities in Swakopmund |
| Package 3N$ 8900(Dorm Room shared including breakfast) | Includes:20 Jumps, 10 Nights accommodation (Dorm room shared with 10), Breakfast, Registration, Transportation to and from the DZ, T-Shirt and 10% off any adventure activities in Swakopmund |

20 December 2017 to 03 January 2018
Aircraft: Atlas Angel
Jump altitude: 13000ft every load

Jump prices:
* Individual ticket R350
* 10x jump tickets R3200
* 2x early bird loads R250 each (purchased before 7am)
* Coach jump R800 (includes both slots and coach fee)

FS organiser:
* Eric Vliegenthart

FF load organisers and coaches:
* Naomi Kotzee (pending confirmation)
* Jean Jacques Wallis
* Andre Du Preez
* Alexis McNaughton
* Michael Lovemore (UK)

Camping on the DZ is permitted!
Beach landings for C licence at Kabeljous river mouth

We hope to see you guys there for an awesome boogie! info@epskydivers.co.za
---
Licences

A7598
Shawn Hefer
Skydive Rustenburg
A7599
Dillen Claassen
Pretoria Skydiving Club

A7600

Jan Jordaan
Skydive Parys

A7601

Daniel Wermuth
Durban Skydive Centre

A7602

Rufus Oosthuysen
Skydive Mossel Bay

A7603

Werner Strydom
Pretoria Skydiving Club
B3048
Shaked Gulasa
Pretoria Skydiving Club
B3049
Ferdinand Steenekamp
Skydive Rustenburg
B3050
Cayne McMahon
Skydive Cape Town
B3051
Johannes Houter
Johannesburg Skydiving Club
B3052
Yvette Smal
Skydive Robertson
B3053
Gert van Zyl
Skydive Robertson
B3054
Kris Coetzee
Skydive Robertson
C1916
Janes Barnard
Skydive Parys

C1917

Jessica Langlands
Johannesburg Skydiving Club

C1918

Alan Hosmer
Durban Skydive Centre

C1919

Shaun van Wyk
Johannesburg Skydiving Club

D969

Arenhold Hooper
Skydive Oudtshoorn

D970

Arnold van Dyk
Skydive Mossel Bay
D971
Sakhele Tyakume
Skydive Mossel Bay

D972

Jaco Scott
Skydive Mossel Bay

D973

Gerrie Peyper
Johannesburg Skydiving Club

D974

Ger-Louis Cilliers
Johannesburg Skydiving Club

Ratings

PRO488

Elmarie Grobler
Skydive on the Vaal

PRO489

Mark Riesnik
Johannesburg Skydiving Club
AI90
Warren Hitchcock
Johannesburg Skydiving Club
AI91
Ryan Weeks
Johannesburg Skydiving Club

TM186SG

Corne Moolman
Skydive Mossel Bay

TM134VE/SGE

Graham Field
Skydive Rustenburg
---
---