Lets boogie in Botswana
9 – 12 August 2017
The most extreme Epic of all previous Epics is closing in on us fast!
First of all, one of THE best experiences in my entire skydiving career, was the day I was introduced to Big Way Formation skydiving! To dock on the edge of an entire sea of people is such an incredible experience I can hardly find any words that will do it justice.
This experience was even more special knowing that I was being awarded the privilege to share the skies with a World Champion and former member of Arizona Airspeed, Dan Brodsky-Chenfeld, author of the sought after book "Above All Else". To attend one of his P3 events in Perris California these days, would set you back approximately R60,000.00 to R80,000.00 should you fly out from South Africa.
So, when the Parachute Association of Botswana requested me to organise some Big Way Formations on their next Makgadikgadi Epic boogie to be held in the Makgadikgadi salt pans, this time at Sowa Town, Botswana, I started thinking…
Seeing that we do have a Hercules C130 available, and seeing that the Botswana Defence Force has already agreed to allow us full oxygen support for high altitude exits, why not invite Dan BC and bring the proverbial "Moses to the Mountain" to do some proper Big Way Organising right here in Africa?
Over and above that, Taya Weiss, who is no stranger to most of us, will accompany Dan to the 2017 Epic to host Big Way Wing Suit flocking formations! With the mentioned oxygen support, we are expecting to be allowed altitudes that will put us well in the required range of the record jumps intended (We don't want to set our aims too high, so we are starting with a 50 Way).
Dan and Taya have already booked their flights and are confirmed and on their way to give you the best experience in your life! This is an absolute historical event! The first ever International Big Way Camp in Africa, lead by World Famous Big Way Formation Organisers!
We have received word of some SA Skydivers being concerned that the wind might be a problem as the Boogie is being scheduled for early August. Well, the 2016 Epic was scheduled over late July and we had great weather!
For some more peace of mind, please see the information below, courtesy of www.Predictwind.com :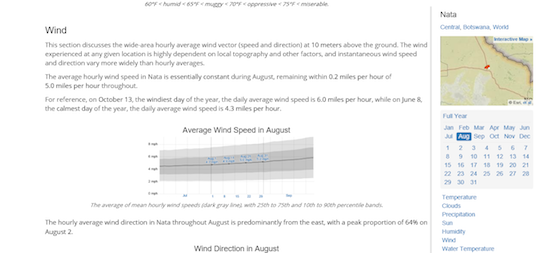 These are perfect weather conditions and do bear in mind that the high windy season did move on a bit as we experience now until even deep into October/November.
The second concern everyone normally would bring up (especially from the more experienced skydivers), are the experience levels of fellow jumpers. One can understand this as you would not like to travel all that distance, only to be bombed out of your slot from the formation, now do you? Well, we do offer offer some reassurance regarding that too:
One, we have the one and only Dan Brodsky-Chenfeld organising, (this man is phenomenal at what he does, he is the guy who had to sign off Chuck Norris).
Secondly, we have over 30 overseas Big Way Formation Skydivers who have already registered and who will be following Dan BC from all over the Globe to come and participate in the Big Way Formation events, making the first 50 way over African soil to be a much bigger possibilty (and a new record by the way).
There is a luxury coach available at a mere R720.00 (return) that will safely take you all the way to the boogie and back, leaving from Monte Casino.
All you need to do is pay and do your registration on the link below!
At the current exchange rate your registration of $400.00 (USD) and an additional $100.00 (USD) for meals will cost you just short of R6,500.00 South African Rands, buying you: 13 Skydives, full tented accommodation (maintained bedding included) and breakfast and dinner for duration of boogie (these guys do make excellent food, believe me)
Guys you are getting all this for a mere R500.00 per slot!
We really hope to see you all there!
Register now at:
https://l.facebook.com/l.php?u=https%3A%2F%2Fdocs.google.com%2Fforms%2Fd%2F1neJAmKYdrzOBsYvX4EPl0mQlTsAidYsz_HP9fE2VslE%2Fviewform%3Fedit_requested%3Dtrue&h=ATPNyDQw4cAcRPYYo73wzffYgMUxtWZ9--GWtOkqNmnVOgxbXA8Zj9KerWqAGXBHcDHtNoFZRFYWXlUgQgVRU7fe1GtpS77mSOQ5QSDbPoi-67ST4ibHwylk0kBdpTugSUC2qCiHHms
Contact Jana (jana.niemoller42@gmail.com) or Pottie (pottie@jsc.co.za) if you have any questions.
Eugene Potgieter, D860