South African National Skydiving Championships
2-Way Virtually Live!
Sport Skydivers Association 2017
Greetings from the Easter Boogie in Mossel Bay
Freefalling Facts
SkyDiving @ AfrikaBurn PLAY
Upcoming Events
New Licences and Ratings
Rustenburg Skydiving Club hosted our Nationals from the 26th of April until the 2nd of May 2017.

Photo credit Danelle Field

This year we had three Teams competing in the Artistic Events, also known as FreeFly and FreeStyle. The Intermediate Team 'Three Flies' from the Cape had their highest score in Round 4 with a 6.5 and FreeFly Open Team 'Datsun Bakkie' had a strong Round 3 and 4 with 6.5. FreeStyle Open Team 'Venter Trailer's' best round was round 6 with a score of 6.8.

Photo credit Danelle Field

9 rounds of Wingsuit Performance were completed. They had a close competition between the Top 3: Pierre Marais Badenhorst, Oliver Nöthen and Andrew De Jonge.

There was only 1 Team in Formation Skydiving 4-way Novice until the 2-way FS Team from Skydive Mossel Bay decided to team up with Brad Curnow to give the Novice Team from Pretoria Skydiving Club some competition. Team 'Vet Mossel' won by 6 points.

In Formation Skydiving Open 4-Way, Team 'SAVOLO' was in the lead throughout the entire competition and finished with a 16.5 average, followed by 'Excession' with a 13.4 average, then 'Celerity' with a 11.1 average and PsyKix in 4th with a 9.1 average.

Formation Skydiving 2-way Open had 13 Teams competing this year. Team 'Pinky & The Brain' came first with a 27.6 average, followed by 'Nexession' with a 26.5 average and 'Fatties and Moanies' with a 22.6 average.

Photo credit Danelle Field

3 new competitors joined Simba and Graham in Classic Accuracy this year. All 10 rounds were finished. Paul Simba Marcellin took first place, followed by Graham Field in second and Chris Grosch in third.

With the weather on our side, we managed to smoothly finish the competition in just short of 4 days with the closing ceremony held on Sunday.

For next year, the SSA is hoping for more teams in Freefly and Freestyle overall, Canopy Formation, Wingsuit Acrobatic, Formation Skydiving 2-Way Novice and Intermediate, Formation Skydiving 4-Way Novice and Intermediate.

Also, we were short camera flyers for 2-Way Formation Skydiving especially. So, if you are interested in doing Video - get on it.

The Sport Skydivers Association would like to congratulate and thank all involved in the 2017 South African National Skydiving Championships - competitors, organisers, judges, volunteers and spectators.

The results can be viewed here.
---
On the 25th of March, 4 clubs participated in the FS 2-Way Club Clash virtual competition in South Africa.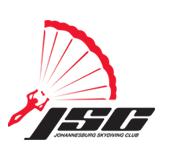 The competition comprised of 3 rounds of 2-Way FS with the draw having been published the night before.
All rounds were uploaded once they were jumped. With a weather hold at JSC we were all kept in suspense until the end of the day. The live streaming kept us all connected nationally, some even gathered around laptops with a peanut gallery.
Johannesburg Skydiving Club had a strong representation and won with a 37.5 average, followed by Pretoria Skydiving Club with a 23.8 average and Skydive Robertson came third with a 20.0 average over 3 rounds. Durban Skydive Centre was unfortunately weathered out and could not compete.
In the Team Winner category, we had three different clubs represented on the podium.

Team 'Bootie Time' from Pretoria Skydiving Club came first with a strong 57 points over 3 rounds, Johannesburg Skydiving Club's Team 'How I met your burble' came second with 42 points and 'Restoration Project' from Robertson Skydiving Club scored 37 points.

The virtual competition was a huge success. Overall, 12 different teams participated. The competition connects us all nationally: we get to see what is all out there. And it is great practice for Nationals. Let's get the competition mode on.

A special thanks goes to the organisers and judges: Claire King, Dirk Venter and Mohan Chudalayandy. Without our judges/organisers we would not have a competition.
---
For further information please contact:
ned.luker@gmail.com / ned@flyaerodyne.com
031 502 6435
---
We would like to introduce the SSA for 2017
| | | | |
| --- | --- | --- | --- |
| Artistic Events | Canopy Formation | Canopy Piloting | Formation Skydiving |
| Amy Shaw | Graham Field | Angelique Pierry-Sharman | Carmen Van Vuuren |
| Maryke Prinsloo | Peter Annandale | Matteo Pagani | Greg Waspe |
| Warren Hitchcock | Rogan Maclean | Mike Teague | Michael Walker |
| | | | |
| Style, Accuracy and Paraski | Wingsuit | Judges | |
| Corné Myburgh | Dylan Hemer | Dirk Venter | |
| Francois Wagenaar | Gert-Louis Cilliers | | |
| Paul Marcellin | Oliver Nöthen | | |
The Sport Skydivers Association (SSA) is organised into committees representing the different skydiving disciplines. The SSA aims at promoting, organising and growing skills. The different committees will organise skills camps and events throughout the year. If you are interested in a specific discipline and would like to find out more about it and the events or if you have ideas for events, please do not hesitate to contact the relevant committee members whose contact details can be found on the PASA Contacts page.
---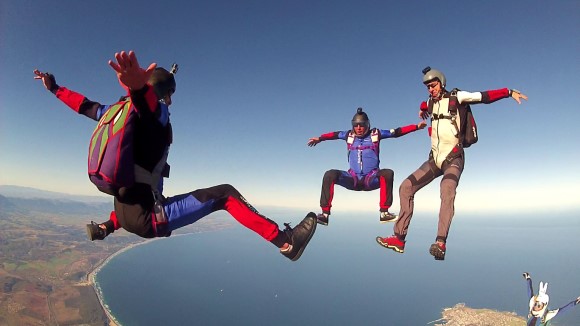 Graham Watkins filming and having some fun with Kevin Rielly, Donavan Crerar, Philippe Charron (from right to left) and the Easter Bunny.
---
Did you know that the ISP and CAT II progression programme in South Africa is one of a kind? More about that in the next Toggle Times.
---
---
For something a little different a small group of skydivers descended upon the good folk in the desert.
---
SKYDIVE ON THE VAAL
OPEN DAY
10TH & 11TH JUNE
CANOPY CONTROL COURSE
2 WAY FS COMPETITION
FREEFLY COACHING
ACCURACY COMPETITION
PRIZES TO BE WON
RAFFLE
R100 REGISTRATION INCLUDES
BRAAI & MUSIC SAT NIGHT
To book: Tel:0839397894 info@skydiveonthevaal.com
---
Licences

A7574

Chris van Wyk
Pretoria Skydiving Club
A7575
Rongtao Ge
Pretoria Skydiving Club
A7576
Mark Green
Johannesburg Skydiving Club
A7577

Melina Dimitrakakis

Skydive Mossel Bay
A7578
Jaco Bekker
Johannesburg Skydiving Club
A7579
Dylan Raffanti
Pretoria Skydiving Club
A7580
Juan-Pierre Delport
Pretoria Skydiving Club
A7581
Shaked Gulasa
Pretoria Skydiving Club
A7582
Celestie Stemmet
Skydive Parys
A7583
Quentin Morel
Johannesburg Skydiving Club
A7584
Hanneke Goodchild
Pretoria Skydiving Club
A7585
Inge van Wyk
Skydive Mossel Bay
A7586
Lucas Vincent
Skydive Mossel Bay
A7587
Gethyn Hart
Pretoria Skydiving Club
A7588
Valentin Soldatov
Skydive Mossel Bay
A7589
Reinhardt Fourie
Skydive Robertson
B3021
Raphael Munck
Pretoria Skydiving Club
B3022
Xander Kuhn
Skydive Rustenburg
B3023
Stevan Boskovic
Johannesburg Skydiving Club
B3024
Elvis Pereira
Skydive on the Vaal
B3025
Gavin Earle
Skydive Robertson
B3026
Matt Futcher
Skydive on the Vaal
B3027
Friedrich Lombard
Pretoria Military Parachute Club
B3028
Samantha Chapman
Johannesburg Skydiving Club
B3029
Michael Agnew
Durban Skydive Centre
B3030
Kimberley Biesenbach
Pretoria Skydiving Club
B3031
Travis Grosch
Johannesburg Skydiving Club
B3032
Jeannie Swanepoel
Johannesburg Skydiving Club
B3033
Chris Oertel
Skydive Oudtshoorn
B3034
Kobus Pretorius
Johannesburg Skydiving Club
C1907
Brendon Nortier
Johannesburg Skydiving Club
C1908
Mike Heim
EP Skydivers
C1909
Bernard Groenewald
Skydive on the Vaal
C1910
Sakhele Tyakume
Skydive Mossel Bay
D964
Charl Coleman
Johannesburg Skydiving Club
D965
Dylan Hemer
Durban Skydive Centre
D966
Tamsyn Snyman
Pretoria Skydiving Club
D967
Rudi Serfontein
Skydive Rustenberg
Ratings
JM1326
Gert Theunissen
Witbank Skydiving Club
JM1327
Quinton Henning
Pretoria Skydiving Club
JM1328
Mike Heim
EP Skydivers
JM1329
Gert-Louis Cilliers
Johannesburg Skydiving Club
JM1330
Pieter Botha
Pretoria Skydiving Club
PRO478
Amy Shaw
Pretoria Skydiving Club
PRO479
Niel Grobler
Skydive on the Vaal
PRO480
Bernard Groenewald
Skydive on the Vaal
PRO481
Burnley Oosthuizen
Durban Skydive Centre
PRO482
Mike Heim
EP Skydivers
PRO483
Russell Vandrau
Witbank Skydiving Club
RP100
William Sharman
Pretoria Skydiving Club
RP101
Jason Baker
Skydive Cape Town
TM185SG
Frederic Body
Pretoria Skydiving Club
CH170H
Quinton Henning
Pretoria Skydiving Club
---