What's on - July
Ssssssmokin'!
Botswana Boogie 2016
Tunnel Camp - Find your game
J-Bay Boogie 2016 Theme Search
Tandem evaluation for Tony, 61
June licences and ratings issued
---
---
Another amazing Smoking Dragon event!

Amazing people, amazing skydives, catching up with some dear old friends. What a ball!

Thank you to all who helped to make this possible - the ever so incredible JSC committee, Skydive Durban and all the jumpers joining us from places as far as Cape Town and Botswana.

Essop, Thabang, Garai, Cyril and George went through great effort to get there and they even sponsored Happy Hour for all the skydivers. You guys ROCK! The event delivered a minimum of incidents and special thanks goes to Andrew Du Toit from Durban for assisting us with safety. What a chilled CI, (but watch out, he is a big oke).

Huge thanks to our two Boogie pilots, Justin and Jaco, for giving us total peace of mind. You guys are legends.

We had Neels and his hot air balloon team over, coming down all the way from Gauteng. Believe it or not, it took forever, but yours truly (Die uwe Pottie Potgieter) can now also tick off the hot air balloon jump. (Yes, I did buy beer and a lot of it).

When clubs get together and there are some intelligence vitamins flowing, there will always be some sharp initiatives arising, especially from a drinking thinking tank of this capacity.

So, here is the master plan:

After serious consideration and intense negotiations between the masterminds from Jo'burg and Durban, it was decided to relive a long overdue tradition.

THE MARGATE BOOGIE IS BACK!!!!

Next year July, we are going to bowl this curveball into this quiet unsuspecting coastal town and show them what fun is all about!

As expected, Durban and JSC will co-host this great event and we will be taking down two turbines to make it all happen! We plan to slot this in with the school holidays so EVERYONE can have some fun.

Don't forget about the Botswana Epic Boogie, guys. It is starting from the 14th of July and believe me when I say that you want to be there!
---
---
The Botswana Boogie 2016 is in the final planning stages and this is the ideal opportunity for those looking for 16 way skydives and tailgate exits with the confirmation of the CASA 235 as primary jumpship. We are now open for registrations. Some info from the FaceBook Events page is below. Go to Facebook for pricing and full details.
Graham & Danelle - SA Boogie Organisers 079 345 7058
Four days of EPIC skydiving in one of Africa's last great unspoilt wilderness venues - The Makgakdigadi Salt Pan in Central Botswana. Botswana Tourism Organisation (BTO), Nata Sanctuary and Parachute Association of Botswana (PAB) bring you Botswana's annual Skydiving Boogie - MAKGADIKGADI EPIC!

> DATES - 2016 July 14, 15, 16, 17 (Thu, Fri, Sat, Sun)
> VENUE - Nata Bird Sanctuary (Botswana) - all details on Facebook. Call to reserve your place.
::: REGISTRATION FORM ::: Only Licensed Skydivers need to download the Registration Form (the general public do NOT need to Register).
> Registration Form - http://bit.ly/28KtpsV
> Info Pack - http://bit.ly/28KGQeL

::: VIP GUEST / LOAD ORGANISER :::
> Olav Zipser (inventor of FreeFly)
::: HIGHER ALTITUDE :::
This year's loads go up to 15,000 ft AGL (19,000 ft MSL)
::: SURPRISE AIRCRAFT :::
1) C130 Hercules
2) Chopper - Squirrel or Huey
::: PRIMARY AIRCRAFT :::
1) CASA 235 (tailgate exits)
2) Cessna 208 Grand Caravan
3) PAC 750 (or Similar)

::: GENERAL PUBLIC :::
> To book TANDEM SKYDIVE - Call: (+267) 76446161
> All OTHER activities do not need to be pre-booked, and can be paid on the day at the event. All Entry Ticket Fees are on our Facebook event page.

::: LICENSED SKYDIVERS :::
1) FS & AE - Load Organising
2) WS - Wingsuit - We're gonna build a Flock!!!
::: REGISTRATION FEE :::
Boogie Registration Fee (on Facebook) ONLY applies to LICENSED Skydivers (not the general public) and includes GOODIES and 10 x SLOTS (from CASA, PAC, Caravan)
::: SLOT RATE :::
Additional Slots (in a booklet of 10) can be purchased (pricing on Facebook page):

::: TRANSPORTATION (ZAR500 or US$40) :::
Self-drive from RSA, or take our luxury coach from Monte Casino Hotel (Joburg) to Nata (Botswana)
> DATE - July 13 (Wednesday), 07:00 AM, RETURNING - July 18 (Monday) for the PRICE of ZAR 500 or US$ 40 (round trip)

::: ACCOMMODATION # 1 :::
SELF-CATERING campsite (bring your own tent & bedding): pricing on Facebook Event page
::: ACCOMMODATION # 2 (LODGES) :::
> Pelican Lodge: (+267) 2470117 or http://bit.ly/1gWAcBT
>Northgate Lodge: (+267) 6211155/56 or http://bit.ly/1ifUdnv
---
---
It's good to have fun, but it's more fun to be good.
The great thing about skydiving is that anyone can do it - it's just about learning technique and spending some focused time and guidance refining it.
Jazz Republic invites you to join us for another tunnel camp to learn, play & fly together and take your skills to the next level. There are limited slots for FS and Freefly. Come alone or as a team. And after hours, experience the wonderful city of Prague - beauty, history, culture and parties that make it such a popular destination.
What:
Tunnel camp - FS and Freefly
When:
4-6 October 2016
Where:

Hurricane Factory in the breathtaking city of Prague,
Czech Republic

Cost:
530 Euro per hour, includes FS coaching
Contact:

Contact Claire or Dirk for more details or to book.
cking@nspace.co.za or dventer@nspace.co.za
---
The fabulous J-Bay Boogie is coming up in December again and promises all we've come to love, and more.

The beach and boogie beckon, but so does the BIZARRE.

JBay is known for it's top altitude, load organising and unmatched skydives, but each year, we find ourselves all themed up with cameras rolling, littering good skydiving footage with weather-day antics and ridiculous reputation-ruiners.

And now the search for this year's boogie theme must begin in earnest. We need your ideas! If yours is picked, you might even land yourself a little prize.

Send ideas to dventer@nspace.co.za and don't be shy - an entire boogie full of skydivers and their new wardrobe are depending on you.
---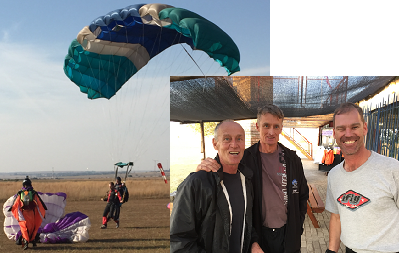 Congratulations to Tony le Roux, 61 years old, who recently completed the evaluation to become a tandem master.
---
Licences

A7504
Hilton Ashford

Johannesburg Skydiving Club

A7505

Marius Pretorius

Witbank Skydiving Club

A7506

Darrin Cardoso

Johannesburg Skydiving Club

A7507

Lizanda Adriaanse

Johannesburg Skydiving Club

A7508

Porcha Schelhase

Skydive Robertson

A7509

Reece Allard

Durban Skydive Centre

A7510

Lorette le Roux

Pretoria Skydiving Club

A7511

Martin de Wet

Skydive Robertson

A7512

Pierre Schelhase
Skydive Robertson

A7513

Jolandi Rudman

Johannesburg Skydiving Club

A7514

Jo Lindberg Augestad
Johannesburg Skydiving Club

A7515

Oscar Lindberg Augestad

Johannesburg Skydiving Club

A7516

Felix Goretzki

Johannesburg Skydiving Club

B2994
Carolynn King

Skydive Robertson

B2945

Roel Houter

Johannesburg Skydiving Club

C1882
Gerrie Peyper

Johannesburg Skydiving Club

C1883
Gerry Snyman

Johannesburg Skydiving Club

C1884
Emene Peyper

Johannesburg Skydiving Club

Ratings

RP97
Stevan Boskovic
Johannesburg Skydiving Club
TM179ST
Sean Schook

Skydive on the Vaal
---