PASA Office Closed
Aero Club Annual Awards
Milestones
tonto Boogie 2015
Wingsuit Camp Weekend November 2015
Mother City open over the Festive Season
16-way camp Dubai – January 2016
SAVOLO Tunnel Camp – March 2016
Thoughts on Choosing a Main Canopy for Wingsuiting
New licences and ratings issued
MOPs update - Parachute and Harness lifetime
The PASA admin office will be closed from 23 December and reopen on 4 January 2016.
Emails will be replied to on our return.
Best wishes to you all for the festive season. If you're travelling on the roads, be safe.
Looking forward to another excellent skydiving year in 2016!
---
PASA was proud to nominate two members for Aero Club Gold Wings at the Annual Awards dinner held on 7 November 2015:
Jacqui Coetzee (nee Bruwer) is a second generation skydiver. She followed in her mother's footsteps by starting her skydiving career at the age of 15 in 1994 as one of the youngest persons to start skydiving. Her skydiving career was postponed for 8 years to complete her studies and rekindled in 2003.
Jacqui joined the PASA Sport Skydivers Association (SSA) in 2005 representing Formation Skydiving and later Canopy Piloting. She served as SSA secretary from 2007 – 2010, vice chair in 2012 and chair and member of the PASA Management Council from 2013 – 2014.
During her tenure, Jacqui:
created standards and implemented systems to ensure smooth operations
was the liaison between SA teams, Aero Club and SASCOC.
In 2007, Jacqui was elected the SA delegate to the IPC, attending IPC meetings from 2008 - 2012.
In that time, Jacqui:

joined the IPC CP Committee and was instrumental in the successful PASA bids to host the 2nd FAI World Championships in Canopy Piloting and 5th FAI Canopy Piloting World Cup.
chaired an IPC Working Group which considered the viability of making Wingsuiting a recognised discipline. Four years later, the IPC has included Wingsuiting as a discipline and records category.
was a Jury member for the 3rd FAI World Championships in Canopy Piloting held in Russia in 2010, the first South African to be elected to this role.
was the FAI Controller of the 6th FAI Canopy Piloting World Cup held in the Czech Republic in 2011, the first South African elected to this role.
was elected Chair of the IPC CP Committee in 2011 and since 2013 continues to serve as Vice Chair.

Jacqui has done 1100 skydives and holds a PASA D licence as well as jumpmaster, FS coach and Static Line Instructor ratings.

She competed at SA National Championships in
2007 - 2-way Open, placing 3rd
2008 - 4-way Intermediate, placing 2nd
2011 - 4-way Open, placing 4th
2012 - 4-way Open, placing 3rd

She completed the FAI judging requirements at the 2014 National Championships qualifying her to judge FS, Wingsuiting and CF.
Ian ("Boss Doug") Douglas has served the South African skydiving community since 1987. As a PASA Master Parachute Technician Evaluator, he has set the standard amongst South African parachute manufacturers and parachute technicians. His constant presence for nearly 30 years has been a huge factor in the development and growth of safety and reliability of equipment used in the sport of parachuting in South Africa

His service has included research and development on both civilian and military parachuting equipment within South Africa and internationally.

Ian has been skydiving in South Africa since 1987 and prior to that in Rhodesia/Zimbabwe.
He has a PASA D licence and jumpmaster, professional exhibition (PRO), tandem and master parachute technician ratings.
He is one of only two parachute technician evaluators in South Africa who are responsible for setting the standard in parachute rigging and evaluating new and existing parachute technicians. He has trained and evaluated every parachute technician operating in South Africa.
Ian made a significant contribution with the introduction of Ram Air Parachutes for student training with the development of the equipment and canopies for use in Student Training. This revolutionised sport parachuting making student jumping significantly safer and more user-friendly as an introduction to the sport.
He serves as an advisor to the PASA National Safety and Training Officer.
Has worked for South African parachute manufacturers PISA and Aerodyne and consulted to other manufacturers internationally.
Continued training of 3 Parachute Battalion Citizen Force to this day.

Ian has a genuine interest in and concern for all skydivers. He is known to go to great lengths to enable less fortunate skydivers to either loan his personal equipment or put affordable parachute equipment together for them.
---
---
Steve Bartels (left) recently logged his 7000th jump and Tony le Roux logged his 6000th jump at the Witbank Skydiving Club.
(Photograph courtesy of Jason Richardson)

Our intrepid Chairman, Graham Field, logged his 8000th jump at Mother City SkyDiving on 30 November.

(Photograph courtesy of Mike Rumble)
---
Eugene "Pottie" Potgieter, D860
The tonto Boogie simply gets better and better each year! Thanks to the JSC team that worked for hours to make such a huge success of this prestigious event!

As is the tradition, Taya made a great contribution to this event, not only by attending but also by bringing in her sponsors, so all skydivers at the boogie could stand a chance to win some awesome prizes!

Graham Field from Rustenburg Skydiving Club decided that Danelle needed a well-deserved break, closed down his club and flew in his plane to join in the fun! There were two Angel Turbine Aircraft formatting for bigger formations and numerous licence requirements were achieved! That is what tonto stood for – skydivers getting together with one common goal, and that is to improve your skills while having as much fun as you can!!!

tonto's legacy lives on day by day, and he must be smiling down seeing this!!!
This year's tonto Boogie was super special! There were some amazing prizes from various generous sponsors: Parachute Systems, Icarus AirWear, Cookie and Vigil.
The event was showered with achievements that certainly would have done tonto proud! Just a quick mention of some of the licence requirements that were done:
D Licence: Constant Benade, Fritz Schoeman, Pam Turner, Brad Price and Lee Moorcroft got his 16 way!
B Licence: Lynsey Houston
A Licence: Sam Chapman, Johann van Coller
Michael Walker also got his 300th jump, so that Pro Rating is on its way.
Taz Calvert finished her JM requirements and will also be finalising that Pro Rating!
| | |
| --- | --- |
| | |
The FS SSA was presented by Bailey Edmunds and Amy Kirtland who gave some phenomenal coaching to younger members. Oliver Nöthen represented the Wing Suit SSA and assisted JSC's very own wingsuit coach, Tamsyn Snyman in developing the skills of wingsuit flyers. Taya Weiss also formed part of this team and shared her skills to make this a phenomenal experience for all.
| | |
| --- | --- |
| | |
The AE SSA also sponsored slots for AE coaching and Warren Hitchcock and his team did fantastic work in improving the skills of those who dared to wander off into the "Dark Side".
There was a huge treat for jumpers when Wonderboom made music to party the night away. Martin, Cito, Wade and Jono are very old and loved friends of JSC! Wonderboom also brought in a second rock band, "Gun Slinger" who played favourite eighties rock - what a show!
JSC thanks everyone who travelled from far and wide to join in the event. There were visitors from clubs from all over South Africa and even abroad.
We trust that we met your expectations and you will be joining us again in 2016!!!
---
---
Aerodyne will be closed for the Holidays at noon on Friday 18 December and re-open on Wednesday 6 January 2016.
2015 has been a banner year for Aerodyne Research with new record levels of sales achieved. We would like to thank the South African Skydiving Community for their strong support for Aerodyne Skydiving Products and we look forward to the continued support in 2016 and the years ahead.
Our Warmest Best Wishes to All for the coming 2016 Skydiving Season !
---
Ollie Nöthen, D906/CH133FW
"WoW", is the only word I have to describe the wingsuit progression at Skydive Pretoria on the weekend of the 28th / 29th of November 2015. Its weekends like this that make me love coaching and seeing students do better than they ever have. The Skills worked on range from diving, proximity flying with coach, acrobatic skills to flocking. (Yes, "flocking" is a term…)
This weekend saw 1xCAT1, 3xCAT2 and 1xCAT3 being completed! (Sorry Mohan, lots of CATS :P)Saturday got off to a slow start because we were put on a wind hold for our own good by Peter Lawson until about 2pm.
Michael "Sparky" Walker was first up once things got going and completed his CAT1 by the last load on Saturday. Not having had enough, Sparky ALSO completed his CAT2 with Michael Panaino on the Sunday.
| | |
| --- | --- |
| Sparky exiting the PAC over Wonderboom in an almost perfect body position | Sparky having no fun flying and about to take a dock. I think he might be over those "sausages" |

Picture above by Michael Panaino of Sparky completing his CAT2.


Stavros Tzircalle (right) completed his CAT2 with flying colours and really showing some natural ability (Stav, now don't get a big head… :P)



Stavros below during his CAT2 WS Evaluation Jump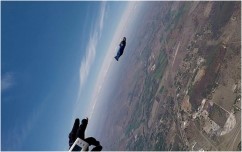 Pieter Botha on his CAT2 WS Evaluation Jump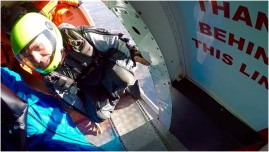 Constant about to do the exit count on his CAT3 Constant flying as Base on his CAT3

Constant Benade completed his CAT3 on the last load of the Sunday with Andrew De Jonge and Michael and myself completing the 4way wingsuit formation. Congrats Constant!
A BIG thank you to Peter Lawson, Hettie and the rest of the team at PSC and Michael Panaino for supporting the WS-SSA and helping the progression in South African Wingsuiting. It is always a pleasure being at PSC and it is so good to see the progression on all levels!

Landing on the pristine PRO zone at PSC

Just a reminder if you would like to find out more info on Wingsuiting, please check the Wingsuit section of the MOP's for minimum requirements or get hold of a Wingsuit Coach or the WS SSA (Hendri Liebenberg or myself) via email. We are always keen to help you get started. Please chat to Hendri or myself for advice and if you require to rent a wingsuit from the SSA.
Onwards & Upwards!
Blue Skies
(all photographs courtesy of Oliver Nöthen)
---
Mother City SkyDiving will be open over 7-days-a-week over the festive season (except Christmas Day)
C-182 and C-206t
Own equipment and B-Licence minimum
Blue Skies
MCSD Team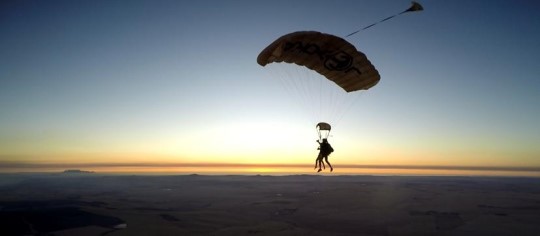 (Photograph courtesy of Graham Field)
---
Cool event coming up for appropriately experienced FS jumpers. 16-ways over the Palm in Dubai with multiple World Champion Martial Ferré.
Highly recommended! Check it out, and give Bradley Curnow a shout if you're interested.
---
SAVOLO is running a tunnel camp at FlyStation in the beautiful city of St Petersburg, Russia from the 26th to the 29th of March 2016. We have a couple of teams already confirmed on the camp and have space for a couple more teams or individual campers. We have previously run camps in London, USA, Malaysia, Singapore and Prague so it seems fitting to add Russia to the list!
The very first SA Indoor Nationals for Formation Skydiving is taking place at Bodyflight Bedford on the 1st and 2nd of April 2016. The SSA has decided to piggy back our nationals on the existing competition that takes place each year and it is going to be epic. Every year is better than the last. SAVOLO is going to participate and will head there directly after the tunnel camp. We would love some teams to join us. There is a Novice, Intermediate and Open category so your team can compete no matter your skill level. SA Outdoor Nationals is a month later at Pretoria Skydiving Club so even if you cannot attend the Indoor Nationals then the camp would be great training for Outdoor Nationals.
If you would like to compete at Bedford in novice or intermediate but don't quite have a full team together then let us know and we can find some likeminded people plus a SAVOLO member (Alex, Amy, Bailey or Debbie) and we can do some training at the camp and then go compete.
And of course if you are not a competitor at all and just want to increase your skills and learn some new stuff then come and join us! We can work with FS flyers of any level as well as freeflyers. In fact we can also take first timers so if you have family members or significant others that might want to join you and share a bit of time then by all means bring them along.
Click here for more info or email Alex, Amy or Bailey.
Looking forward to flying with you!
SAVOLO
If you would like to stay up to date with SAVOLO camps and news, please click here to subscribe to our newsletter.
---

Suppliers & Manufactures of fine Skydiving Equipment

Need Skydiving Gear?
New or Second Hand
Reserve repacks and repairs
Accessories:
Jumpsuits, Parabags, Packing mats, Helmet Bags,
Altimeters - Wrist mount & Audible, Helmets,
Hook Knives, Goggles, Skydiving Videos/DVD's, Skydiving T-Shirts
Visit our Shop
138 - 7th Ave
Edenvale
Gauteng
Contact: Manuel Cordeiro
Website: www.icarus.co.za
Email: manny@icarus.co.za or icarusaw@global.co.za
Telephone: 011-452-8858 / 083-252-8720
---
Hendri Liebenberg, D938/CH153FW
(Disclaimer: this article does not seek to endorse or promote any particular brand/model of main canopy. Where reference is made to a specific manufacturer/model, it is done purely for the sake of clarification. I've tried to mention canopy makes/models that are commonly found on South African DZ's, but there are many more options out there!)
So, you're thinking about buying your first main canopy? Or possibly downsizing?
STOP! Are you currently wingsuiting? If not, are you considering to wingsuit in future? If so, read on, as this may affect your decision on what to buy:
"What do you mean I CAN'T jump my *insert fully elliptical, highly loaded, popular brand of main canopy here* with a wingsuit??!"
I have heard this phrase spoken on more than one occasion during the ground school phase of the Wingsuit First Flight Course (FFC), even though the MOPs clearly state that you should use a square main parachute with a maximum wing loading of 1.3.
"Yes, but I know my canopy. I've done over a 100 jumps on it!", or "…but *skygod* at my DZ uses his *Cyclone* canopy for WS and he says it's fine!"are the usual arguments.
Imagine, if you will, accelerating through 2000ft with diving line-twists on your highly loaded, elliptical main (through no fault of your own, of course! Damn those packers… ;-), while snuggly zipped up inside your awesome flying sleeping bag/straight jacket…
I think we can all agree that this situation is less than ideal. If you're not convinced, go have a look on YouTube or Friday Freak Out (the idea is not to put you off wingsuiting, btw, but rather to try and open your eyes to the fact that WS canopy malfunctions aren't as glamorous as some people might make them out to be.)
So what are your options?
Firstly: there is NO magical canopy that will give you perfect, on-heading, line-twist free openings all of the time. Packing, body-position during deployment and a number of other factors all contribute to opening nasties occurring. In the end, apart from having the right equipment for the job, the only thing you can do to get better deployments is to continuously increase your knowledge and hands-on experience.

Oliver Nöthen deploying with a 9ft bridle after shutting the wingsuit down completely
(Photograph by Jeff Nebelkopf)

There are a myriad of possible new canopy deployment issues that get introduced when wingsuiting (again, refer to YouTube, Friday Freak Out, etc.), but we'll focus on the two most common scenarios: bad body position and the effects of the wingsuit's burble:
We all know that loading one set of risers more than the other during deployment is a bad thing, right? (i.e. dipping a shoulder.)
Due to your increased surface area when wingsuiting, any body-asymmetry issues during deployment are greatly magnified and the resultant uneven loading on your deploying canopy could be a recipe for disaster. This is one of the reasons why your first 100+ wingsuit jumps should be done with a conservatively sized (small) wingsuit. If this situation were to occur, do you want to be under a canopy that's likely to continue flying straight and level while you sort out the line twists up to your neck, or would you rather be under a canopy that's gonna see this as an invitation to try and break your previous personal speed and g-force records?

Packing error and/or body-asymmetry during deployment and the resulting line twists. This particular type of square 9-cell is extremely forgiving in such circumstances
(Photographs by Hendri Liebenberg)

Wingsuits create a much larger than normal burble behind and above you (the area where the pilot chute and deploying canopy has to pass through), which may not only cause pilot chute hesitation, but also spin up your d-bag during the deployment process, causing rapid and severe line twists.

Line twists, possibly caused by end-cell closure / packing on a semi-elliptical canopy
(Photograph by Oliver Nöthen)

The effects of the burble on your deploying canopy can be minimized by doing the following:
Replacing your standard 6ft bridle with a 9ft one, thereby giving the pilot chute a better chance of catching "clean" air outside of the burble.
Consider getting a larger size pilot chute, 3D and vented if possible (e.g. Squirrel's Sky Snatch), in order to minimize PC oscillations. Wingsuit BASE jumpers often use a 36" or larger pilot chute! (What size PC are you jumping, btw?)
Making sure that your pilot chute toss is positive, while being careful not to induce abovementioned body-asymmetry, though.
Learning how to deploy while maintain clean airflow over the back of your wingsuit, as opposed to shutting the suit down completely (only to be done under the guidance of your WS coach, once you have sufficient WS experience!)

A Squirrel SkySnatch PC (3D & vented) with 9ft bridle extracting the d-bag after a wingsuit jump. (Note the powerful/symmetrical inflation of the PC)
(Photograph by Oliver Nöthen)


A regular PC (2D & unvented) with 9ft bridle extracting the d-bag after a wingsuit jump. (Note the collapsed state/asymmetry of the PC, compared to the 3D/vented type in photo above)
(Photograph by Hendri Liebenberg)

So what are your options when it comes to choosing a main canopy for wingsuiting?
7-cell canopies
The opening characteristics of a 7-cell canopy is, by far, the most predictable, and it is precisely for this reason that they are used as skydive reserves and as BASE jumping canopies. (If Accuracy, CReW or BASE is your thing, look no further!)
Some jumpers feel that the flying and landing performance of 7-cells are somewhat lacking, compared to their 9-celled cousins, although we have come a long way with regards to design and construction materials, and most major manufacturers claim that their 7-cell canopies have comparable performance to their 9-celled ones.
Popular canopies in this category include PD's Storm and Spectre, Aerodyne's Triathlon or Triathlon Hybrid (if you also want to get your CReW on ;-), Squirrel's Epicene, etc.
| | |
| --- | --- |
| Example of a Squirrel 7-cell Epecene canopy | Example of a PD Spectre 7-cell canopy |
Square 9-cell canopies
For most wingsuit skydivers, who aren't keen on jumping a 7-cell, this type of canopy is their weapon of choice, as they can also use it for most of their other skydive activities (FS, AE, Cam, etc.). Openings are less reliable than on the 7-cells, but the increased performance and versatility makes this the most widely used type of canopy in wingsuiting.
Aerodyne's Pilot seems, hands-down, to be the leader here (I've had quite a few "interesting" deployments myself, that would definitely have resulted in cutaways, if I weren't flying my trusty Pilot…)
Parachute Systems' ZP or ZP-EXE are also popular, as well as a number of other options.

Hendri flying his Pilot after a wingsuit coaching jump in Botswana
(Photograph by Oliver Nöthen)

Semi-elliptical/Hybrid 9-cell canopies
Responding to skydivers' requests for a more elliptical parachute, but with the opening characteristics closer to that of a square, nearly all manufacturers have stepped up and produced (or re-worked a previous design) some sort of semi-elliptical/hybrid canopy that they now classify as "wingsuit friendly" and this may be an ideal choice if you're not keen on flying a square. Examples of these are Parachute Systems' Volt or Ventus, PD's Sabre & Sabre 2, etc.

Right: Graham Field flying his Parachute Systems Ventus
(Photograph courtesy of Graham Field)


Below: Parachute Systems' Volt

The bottom line:
In a perfect world, we would each have 5 different, colour-coded rigs, specifically designed for each type of skydive we might do, and slots would only cost R10 (and beer R0.10)…
The reality, though, is that the R/$ exchange is not doing us any favours and most SA skydivers can only afford to maintain 1 rig, which we normally expect to fulfil all of our skydiving needs. Before buying your new main canopy (or harness/container system, for that matter), consider the following:
Apart from wingsuiting, what type of skydives will you mainly be doing?
Apart from safe deployments, what are your requirements of your main canopy? (docile flying? swoop machine? immense pulling power of the opposite sex?)
How versatile is this canopy? (can I use it for cam jumps, wingsuiting, as well as FS and AE, etc?)
As always, your C.I. is your best source of information. If he/she is unable to help, they will refer you to your DZ's WS coach/senior WS flyer or, if you still have questions, you are more than welcome to contact the WS SSA (we live for wingsuiting and actually like talking about it, so you will be brightening up our day… ;-)

Blue skies, safe flights and hope to fly with you soon! Ka' kaah!
---
A Licence
A7463
Adriaan Engelbrecht
Johannesburg Skydiving Club
A7464
Raymond Lee
Durban Skydive Centre
A7465
Samantha Chapman
Johannesburg Skydiving Club
A7466
Johann van Coller
Johannesburg Skydiving Club
A7467
Muhammad Aldekheni
Pretoria Skydiving Club
A7468
Christian Ferch
Pretoria Skydiving Club
A7469
Gerald Scheepers
Witbank Skydiving Club
A7470
Annalize van Jaarsveld
Pretoria Skydiving Club
A7471
Roel Houter
Johannesburg Skydiving Club
A7472
Alexandros Nikologiannes
Skydive Mossel Bay
B Licence
B2963
Johan Scholtz
Pretoria Skydiving Club
B2964
Mlungiseleli Jokani
Witbank Skydiving Club
B2965
Lynsey Houston
Johannesburg Skydiving Club
B2966
Manie le Roux
Witbank Skydiving Club
B2967
Alex Phelps
Skydive Robertson
C Licence
C1867
Thomas Janek
Skydive Mossel Bay
C1868
Brandon Rothero
EP Skydivers
C1869
Corne Breed
Skydive Rustenburg
C1870
George Clack
Skydive Mossel Bay
D Licence
D946
Braam van Heerden
Skydive on the Vaal
D947
Pam Turner
Johannesburg Skydiving Club
D948
Fritz Schoeman
Johannesburg Skydiving Club
D949
Brad Price
Johannesburg Skydiving Club
D950
Constant Benade
Pretoria Skydiving Club
Jumpmaster Rating
JM1302
Tegan Van Zyl
Durban Skydive Centre
JM1303
Jorrie Jordaan
Durban Skydive Centre
PRO Rating
PRO461
Jean-Jacques Wallis
Pretoria Skydiving Club
PRO462
Michael Walker
Johannesburg Skydiving Club
PRO463
Taz Calvert
Johannesburg Skydiving Club
Tandem Master Rating
TM172ST
Alexis McNaughton
EP Skydivers
V = Vector
SG = Sigma
ST = Strong
Coach Rating
CH159F
Liza Hietbrink
Witbank Skydiving Club
CH160H
Braam van Heerden
Skydive on the Vaal
F = Formation Skydiving
A = Artistic Events
H = Artistic Events Head Up
C = Canopy Formation
P = Canopy Piloting
W = Wingsuiting
S = Freefall Style & Accuracy Landing
---
The following is effective immediately and will be published in our MOP at the next update:

SECTION 2 – BASIC SAFETY REQUIREMENTS
1.3 EQUIPMENT
1.3.8. Reserve parachutes and harnesses used for sport parachuting shall have a maximum 20-year lifetime.
CHANGES TO:
1.3.8. TSO'd Reserve parachutes and harnesses used for sport parachuting shall have a maximum 25-year lifetime.
Non-TSO'd equipment older than twenty years may not be used within PASA's jurisdiction.

Contact your Parachute Technician or your Chief Instructor / Safety Officer if you have any questions.
---
Thank you to everyone who contributed to this issue. If you have any stories, pictures, comments or suggestions please send these to news@para.co.za
If you are interested in advertising in this newsletter, contact admin@para.co.za for more details.
---
PASA and the Toggle Times cannot be held responsible for any errors or omissions, due to all content being submitted without verification.
---