2015 National Championships in CP - April 2015
2015 National Championships FS, AE, CF, WS - April
Judges' News
Wingsuit Nationals
Keeping it in the family at Nationals
Are you a true competitor?
Smoking Dragon Boogie - May 2015
FS 8 way skills camp - May 2015
Wingsuit Skills Camp with Jarno Cordia - June 2015
Freefly News
Skydive Robertson Old Pharts - June 2015
New Intermediate Freefly Competition
JSC recognised at tourism awards
Mother City SkyDiving
Skydive Rustenburg Events 2015
Pretoria Skydiving Club Winter Special
Mini Money Meet - PSC 18-19 July 2015
Peter Lawson Cup - PSC 8-9 August 2015
Canopy Formation Skills Camp - RSC 15-16 August
Makgadikgadi Epic 2-4 October
PSC Boogie - 12 to 16 December 2015
The ever popular J Bay Boogie is ON!
In Memoriam
In Memoriam
New Online Functionality
Aero Club Annual Award Nominations
New licences and ratings issued
History Articles

Having done another exceptional job, Peter Lawson of Pretoria Skydiving Club hosted the 2015 South African National Championships. The event was held from 4 to 6 April and the conditions were ideal. Adding to the excitement, Dallan Goldman of Jungle Rush FMX together with his team, set up their freestyle motor-cross ramp and impressed the crowds with an insane demonstration of their FREESTYLE MOTOR-X ability.
The senior competition comprised of 8 competitors, largely from Gauteng. The results are as follows:
1st Chris Teague
2nd JJ Wallis
3rd Rob Kruger
The event received some international attention with entries coming in from Billy Sharman of the UAE and Roy Seber of Belgium. Having some of the world's best at the event certainly upped the ante bringing out the best in our local talent. Testament to this, on the final distance round of the event, Chris Teague scored a distance of 168.30 metres which is currently being ratified by the FAI as the new world distance record. The plot thickens as there are 2 other records being ratified internationally for the same claim – Pablo Hernandez (PD TEAM) of Spain has submitted a claim of 167.90 metres and Nick Batsch (TEAM ALTER EGO) of the USA has submitted a claim of 169.19 meters. The canopy pilots wait with bated breath to hear who will lay claim to this title.
The intermediate category offered some up-and-coming stars showcasing 5 swoopers with some stiff competition at the top. With the leader board changing after every round, it was the only lady competitor who finally dealt the last blow teaching the men a deserved lesson in the art of canopy piloting. The results were as follows:
1st Julie Teague
2nd De Wet Davel
3rd Leith Welsford
It was however with great sadness that the South Skydiving community lost a true gem and asset to the sport. It is clear by the overwhelming response to Antonio Bianco's passing that he was well loved and will be sorely missed. Blue Skies, brother.
| | |
| --- | --- |
| | |
---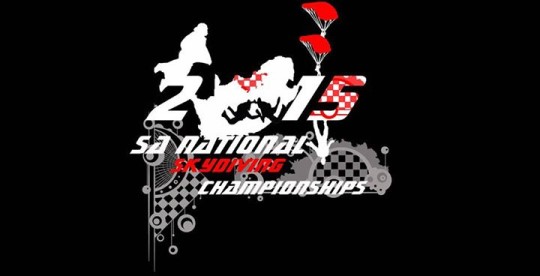 Skydive Rustenburg, in the Bonjanala Platinum District Municipality, successfully hosted the 2015 SA Skydiving Nationals in FS, AE, CF and, for the 1st time in an official FAI Nationals, Wingsuiting Performance and Acro competitions.
The Nationals were supported and sponsored by the SSA, the Northwest Government, Westvaal Isuzu and Parachute Systems who sponsored a new Vortex Container as well as the Parachute Systems Floating Trophy for Wingsuit Performance.
The Northwest Provincial Government has entered into a future training partnership with RSC and due to the successful hosting of the 2015 Nationals has sponsored 6 full student systems as well as a state of the art Sigma Tandem system to allow training and introductory skydiving to the Province.
| | |
| --- | --- |
| 74 registrations were received and a total of 30 teams in the various disciplines competed in the Nationals competition along with the 10 individual wingsuiters in the performance category. 1321 descents were made from the 3 Atlas Angel aircraft used during the competition and 55 tandem passengers were introduced to our exciting sport as part of the buildup to the event including Executive Mayor Pinkie Moloi, MEC of Finance for the Northwest, Wendy Nelson, and other dignitaries as well as over 30 scholars and students from the local area. | |
Competitors and event onlookers celebrated the winners in the various categories at the awards function after competition close.
Two way FS novice: 1st Spaghetti Nipples. 2nd Slapnut Magoos. 3rd Average Joes
Two way FS open: 1st Pink Paranoia. 2nd Levitation 2. 3rd Cookie Thumpers
Four way FS novice: 1st Levitation. 2nd Full Frontal. 3rd Teenage Mutant Ninja Turtles
Four way FS intermediate: 1st Haya Naat Busa. 2nd Syzygy 4
Four way FS open: 1st SAVOLO. 2nd Jazz Republic. 3rd Velo-X
Eight way FS open: 1st Zyzygy
Two way CF sequential: 1st Fast & Furious. 2nd G-Spot. 3rd Jackie JJ & G
AE Freefly intermediate: 1st 2 Thorns and a Rose. 2nd Fun Police
Wingsuit overall: 1st Waldo Prinsloo. 2nd Oliver Nothen. 3rd Jean-Jacques Wallis
Wingsuit Acrobatics: 1st The Autistic Wings. 2nd Top Deck
The RSC Team thanks all involved and, with the continued support of PASA, the SSA and the Northwest Government, is committed to bidding for and hosting the Nationals at the DZ again in 2016 - see you there.

(Photographs courtesy of Willie Bodenstein, Mike Rumble, Katie Levick and Graham Field)
---
4 judges passed an FAI rating course at CP Nationals:
Patches Kennard, Annelie Hoeksema, Lourens Barnard and Yvette Kemp.
Jacqui Coetzee did her 2nd year as judge trainee at FS Nationals and is now a National Judge in FS.
We are always looking for new people to join the judging circuit – especially in FS and AE. If you're interested, please contact Dirk Venter.
---
---
Ollie Nöthen – D906/CH133W
Serious Flying Squirrels!
2015 started with a "Swoosh" for Wingsuiting when the FAI accepted it as an official discipline at the end of February 2015. This created the foundation for the first South African Wingsuit Nationals held at Skydive Rustenburg fro 27 April to 1 May 2015. Graham and Danelle Field and the Amazing team at Skydive Rustenburg with the help of the Wingsuit SSA were able to plan and successfully host the new Nationals event with very short notice. As with every "first" event, an incredible amount of learning was done by all parties concerned.
The Wingsuit competition is comprised of two sections, Performance and Acrobatics:
Performance is comprised of 9 jumps: 3 Speed, 3 Distance and 3 Time.
Acrobatics is comprised of 7 rounds filmed 2way: 4 compulsory routines and 3 free routines.
First up were the Performance rounds that utilized a GPS logger attached to each competitor and, boy, competition was fierce and very closely contested with competitors having results that were often within a few metres / seconds of each other.

Towards the latter half of Nationals, the Acrobatic Flying kicked in. Barrel rolls, front flips, back flips, revolutions and Fruity Loops are some the terminology used to describe the fun had during these acrobatic jumps.

A BIG "Thank You" goes out to Graham and Danelle Field and Herman Grobler for all their efforts and a big shout out to the SA Judges and Thierry Courtin, the FAI / Meet Judge. It would not have been possible without your support.

And another BIG "Thank You" to the Prize Sponsors: Parachute Systems, Squirrel Wingsuits, Cookie Composites, UPT and Cypres. (The Prizes up for grabs were: A Custom Vortex Container, 2 x 30% off UPT V3 container's, 2 x 25% off Squirrel Wingsuits, 50% off a Cookie G3 Helmet, Cypres Service vouchers and apparel. It sure made most of the other discipline competitors a little jealous at the Awards Ceremony and wanting to sprout a wing or two.

Fred Potgieter and JJ Wallis - Round 1
The winners of the Wingsuit Nationals 2015 are as follows:
- Winners in Performance Flying:
Waldo Prinsloo – 1st (Winner of the Parachute Systems Floating Trophy)
Oliver Nöthen – 2nd
Jean-Jacques Wallis – 3rd
- Intermediate Winners in Performance:
Garric Townsend
Susan Watts
Tamsyn Snyman
- Winners in Acrobatic Flying:
1st: Team Autistic Wings (Tamsyn Snyman, Hendri Liebenberg and Camera: Oliver Nöthen)
2nd: Team Top Deck (Michael Panaino, David Maina and Camera: Jean-Jaques Wallis)
To the Winners, Congratulations and to all competitors, thank you for attending and contributing with suggestions and feedback. This will no doubt make the Wingsuit Nationals 2016 even more exciting!
If you are close to the minimum requirements to Wingsuit and would like to get more info and/or plan for your First Flight Course, please feel free to contact Oliver or your SSA WS representatives.
Remember: you can tick the WS Box on your PASA application form throughout the year, even if you aren't Wingsuiting (yet…) Just drop a line to admin@para.co.za and ask them to add WS to your discipline selection.
Keep flying and be safe out there!
Garric Townsend - Speed exit


Autistic Wings (l-r) Oliver Nöthen,
Tamsyn Snyman, Hendri Liebenberg
---
In keeping with PASA's proud tradition of skydiving families, two sets of families competed at Nationals 2015 – dad Martin Phelps, D755 and son Alex Phelps, A7351 from Skydive Robertson (below left with cameraman Robbie Stewart) and dad James Williamson, D912 and daughter Roxanne Williamson, B2946 from EP Skydivers (right).

Alex and Roxie are also currently the two youngest licensed PASA members (Alex being the youngest by 2 weeks).


---
Claire King, D863 (Team Jazz Republic)
Another silver. I was so sure we had a chance at gold this year.
We compete for different reasons – for some, it's for time spent with friends, for others, a way to get jumps on Nationals weekend, but for me, it's the pursuit of excellence, of continued improvement. I love my opponents because they push me to work harder.
Vince Lombardi put it so well: "Winning isn't everything, but wanting to win is."
Both of the top teams competed with challenges - oxygen, altitude, new line-ups, fatigue, distraction and… well… none of that matters. Not because both teams were challenged – that just made it interesting and unpredictable - but because competition day doesn't care. Even if one team had everything perfectly aligned and the other had constant obstacles, the joy of competition is that it tests you on the day. This day, the other team was better. And it isn't because they are better at managing challenges or better trained or better skilled but because they were all of these things and more on the day, and through that earned their win. I'm disappointed, but above all I respect this as competition – I can only claim it when I have rightfully earned it and that will make the day sweeter when it comes.
I admit - to myself and my victors - that I like to think we could have taken them on round 8 (the super sequence) - of course I like to think that. But even at our best that week, I know we could not have beaten them. Ain't that the ugly truth? Admitting to myself and others that I want it but wasn't worthy of it (yet :-)) keeps the motivation clear and the prize in sight without losing the due respect for those who took it from me.
A week later – with no further training and based on nothing but desire - I am certain, again, that we'll beat them next year.
After the joy of believing, the thrill of the challenge and the torment of losing, I hope never to forget two critical truths that - to be competitors, sportsmen – we must embrace:
I compete in this discipline because I revere the skills and value it as a ranking system.
I can only strive for, and value my win if I respect the winning teams who take it from me.
Seems a little obvious? Well, yes, but each Nationals we find ourselves surrounded by excuses and delusions of "why we didn't win but should've/could've/would've". Next year, let's all remind ourselves not to do it – you lie to yourself and look like a bad loser to everyone else.
Be a true competitor. Respect the winner, for they achieved what you strived, and failed, for. If you should have or could have won, then you would have. If it "wasn't your day" then you lack what was needed to make it your day and you are not the better team. They are. Accept it and work at reversing the outcome next time. You don't need to be happy for your victors, but if you are to belittle their win today, you can hardly be proud of it the day you finally take it.
Next time you explain to yourself or others why you didn't win, stop to first consider if you're being a true competitor or just making excuses because you simply weren't good enough that day.
Respect your victors and acknowledge their achievement – they did, after all, beat you at this sport you value so highly.
Accept (sacrificially if you must) this reality: They are beating you because today, in this meet, they are the better team.
Comments like "they trained more", "they have more tunnel time", "they have more experienced jumpers", and "they have more jump budget/sponsors" are dull, uncreative observations. These are training strategies. We train to improve and win. Why on earth would better training/funding/resources make them less worthy of the win? If your resources (financial, psychological or physical) can't make you world champion, then you won't get to be world champion. It doesn't matter why. That's why there is only one champion each year. It's not for everyone. Respect that they found a way.
Gain from your loss. Identify why they won and add that to the next season's training arsenal to improve your results.
---
---
Eugene Potgieter, D860

When initially invited by the Durban Skydive Centre guys to come and join them in hosting the Smoking Dragon Boogie I must admit, we got a bit of a "skrik".

The idea of organising something that far away seemed like a tall order. However, time has already proven that the JSC Committee guys do not scare that easy. We did have a few urgent things to get done, like getting our bowser truck ready for a road trip (she actually thought she was on semi-retirement, only doing short trips to boarding point and back).

If we should tackle a project this far away, it would be of no use doing it half-heartedly and we decided to send down two turbine aircraft. Braam van Heerden made his Kudu available and closed down Skydive on the Vaal for the weekend to come and join us.

Through pure dedication, amazing team spirit shared with Durban Skydive Centre, and just sharing our love for the sport, we managed to put a boogie together that will only grow into a bigger and bigger event!
On arrival, we were astounded by the pretty surroundings and the comfort at the Amphitheatre Back Packers. The fun skydiving crowd who had already arrived, added the welcoming atmosphere skydivers are so renowned for, making us feel right at home!

The next morning we were greeted by blue skies and shortly after, a nosy cloud moved in over the mountain, keeping us on the ground until the sun burned its way through for us to start up.

There were also Hot Air Balloons getting ready for take-off which caused quite a bit of excitement when the wind came up! Some guys had some magnificent jumps from the balloons!We started getting together loads, concentrating on some eight ways and we also had the odd wingsuit in-between. (The view from your wingsuit at this venue is phenomenal by the way!)

We did manage to get some great eight way stuff done and this picked up great momentum when Claire King and Dirk Venter joined in.

Obviously, Saturday evening was a huge party, celebrating a day of brilliant skydives, combined with live music, bonfires, shooters, shooters, shooters and oh yes, there was this purple mechanical pig everyone made you get onto.

Sunday morning, those still capable after the party, enjoyed some more skydives in the crisp clean mountain air before taking the road back home.

What a boogie! Thank you Durban, Amphitheatre Backpackers and especially the combined team of organisers! We are DEFINITELY doing it again next year!!!
---
On the weekend of the 30th and 31st of May the FS committee hosted an 8 way skills camp at Pretoria Skydiving Club. The camp focused on teaching the jumpers skills required in building larger formations. Each group did 5 jumps with unlinked exits and docking a pre-planned 8 way formation in a specific slot. Although the jumpers, which were mostly WSC members (Malcolm Keys-Transfeldt, Steven Booyzen, Mark Peeters, Biela Liebenberg, Corne Breed, Gerhard Schoeman and Gregory Waspe) had limited FS experience, the achievement at the end of each day was really spectacular. Major improvement was shown by each jumper as the camp progressed. It was clear that the jumpers were challenged to a level they have never been challenged before, since none of them had previous exposure to larger formations. From learning a lot of new terminology, using creepers (yes, Gerhard, those skateboard looking things that are used for ground training) to learning how to dock a larger formation in a specific slot was just part of the skills imparted during the camp. As a bonus most of the jumpers also signed off their C-licence requirements.
| | |
| --- | --- |
| | |
It was evident from the feedback received after the event that the jumpers learnt a lot and enjoyed the weekend thoroughly. Some of the feedback we received is the following (shortened for the purpose of this article);
Malcolm: "With the help of a fantastic team of FS coaches we were trying to accomplish something some of us have never done before in five jumps... No pressure. The first jump for me was a nerve wracking highly focused, don't mess up jump. And to my surprise it went ok for everyone! We had some ups and downs along the way but at the end of the day we managed to pull it off! Yeeehaaa!!!! It was a privilege to be part of the 8-way team. The FS coaches were extremely helpful and guided us as we went through the day. We all learnt a lot from this experience. The day was a huge success and I look forward to being part of a team in the near future. After many years away from the sport this weekend has rekindled my love for skydiving!"
Gregory: "this Sunday was truly amazing... I learned a massive amount in a very short space of time. It honestly was one of my best days skydiving so far..."
Gerhard: "I have never ever had so much fun in my Skydiving career before. We have learned so much from this. I know that before we will have the privilege to jump with this type of skill again, we will have a long way to go… But it's something worth to pursue…
Being in an 8-way and 10-way brings out the discipline in Skydiving we tend to forget while having fun jumps, not really thinking about the future of where you want to go in the sport.
I got to that DZ with my normal mindset of thinking "Skrew FS, Skrew FreeFly and whatever, .. I Just want to swoop.." But after today, I have felt what true teamwork is all about. And I liked it a lot… I really hope to see us all doing more of this going forward.
To the best day ever! (Cheersing with my Beer)!!!!!"
Biela: "It was an awesome day!"
Corne: "It was an awesome experience – a lot of fun when you plan something and it comes to life."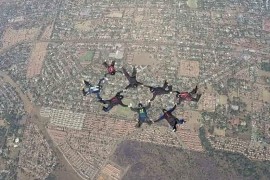 Thank you to the SSA for sponsoring funds towards this initiative as well as to Peter Lawson from PSC for the last-minute Coach-'slot-subsidy' to make the smooth running of the weekend possible.
From the FS committee, thank you to all the FS coaches that assisted with the camp (Ian van den Berge, Mark Trethewey, Brad Greenwood and Michael Panaino) as well as the camera man (Mohan Chudalayandy).
(Photographs courtesy of Mohan Chudalayandy)
---
Hendri Liebenberg – D938
On Friday night, at 20:00, we all met in the JSC bar for our briefing with well-known wingsuit flyer and BASE jumper, Jarno Cordia. Most of us were a little unsure of what to expect, as we have all seen the numerous photos and videos on social media of Jarno doing all kinds of badass stuff. As it turns out, he was very approachable and able to explain what he wanted to achieve over the course of the weekend in a clear and precise manner, using a multitude of colourful analogies to drive his point home. He proceeded to give us a run-down of the "basics" of wingsuit flying, causing more than a few faces to frown, and it was clear that this would be a weekend of extreme progression for all involved.
Saturday morning started bright and early with a 07:00 briefing of the day's jumps. The 9 attendees were divided into two groups, based on experience, and the day's jumps were planned, walked and discussed in detail. Every flyer had to do his/her bit, flying their approach and slot, and Jarno drew a lot of parallels to FS skydiving and how wingsuit flyers can benefit by adopting the same pre-jump planning and visualisation routines. By the time the call came to kit up, we were all eager to get going, and not even the sub-zero temperatures at altitude could wipe the smiles off our faces as we landed from our first jump. The day proceeded with both groups working on building a single point flock, with the focus being on each flyer getting to the formation quicker and flying tighter, rather than turning multiple points. Based on the video debriefs, Jarno gave each flyer one specific goal to try and improve on during each flight, and by the end of the day, everyone was flying faster, smoother and more comfortably, with a noticeable improvement in the in-flight discipline.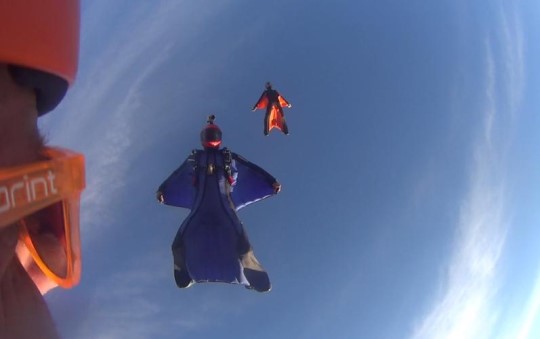 After dinner on Saturday evening, Jarno presented a seminar on wingsuit flying and BASE jumping, and it was very encouraging to see such a large number of non-wingsuit skydivers attend as well.
Apart from giving some very useful insights into the aerodynamics of wingsuit flying, the main theme of the seminar was about relaxing and enjoying every step of one's skydiving and/or BASE jumping career. He mentioned how many jumpers, these days, are rushing through their progression, just to get to the 200 jump rule as quickly as possible, in order to start wingsuiting. The same applies to BASE jumping, where many jumpers will start and do as many jumps in as little time as possible, just so they can put on a wingsuit and do "wingsuit base" and "proximity flying".
In addition to the obvious (to some) reason, that by following this route, you increase your chances of meeting with the reaper prematurely by a large factor, he brought up a very good point that we do not often think about: every "first" you do in skydiving, creates a lot of positive energy in yourself and those around you (AFF, ISPs, CAT2, CAT3, new licences and ratings, etc.) and, if done without being in such a huge rush, this can be a source of excitement and motivation for a good few years, before you need to look for something new to bring back the initial thrill.
By "fast-tracking" yourself to the extent of, say, attempting to get to wingsuit BASE jumping 6 months after completing your AFF, what remains once you have done that? You can't go back and enjoy passing your CAT 3 in FS, because you have already done the most badass thing out there – he used a very clever little analogy here, involving 7 people and a donkey (PG18NSLV) ;-)
| | |
| --- | --- |
| | |
For any wingsuit related queries or suggestions, please feel free to contact your SSA WS representatives and remember: you can tick the WS box on your PASA application form throughout the year, even if you aren't wingsuiting… (yet!).
Look out for the RSC Christmas in July Bash (25/26 July), for some more wingsuit fun!
Blue skies and happy flocking!
---
---
Freeflying in South Africa is a strange animal: there are so many people doing it, and yet very few people actually competing. Nationals last year was a wash out, and in Rustenburg this year there were only 3 teams registered to compete. The focus the AE Committee has given to the Intermediate format over the past 3 years is quite clear though, as more people are now progressing their licences through the Freefly route. But serious consideration was given by this year's committee to the question of WHY it is that so few people compete, and the conclusion was that a lot of people are either unaware of the competition format, or are not very confident in their skills. It was suggested that the current progression / skills development system is a great tool in developing the basic skills needed to freefly, but that the flip side is that it can encourage 'licence chasing' rather than real progress in ones flying skills.
So we have suggested tweaking the current system to ensure that it TESTS skills for C & D licences in a similar fashion to how the Formation Skydiving system is set up, rather than TEACHING skills. This will have the added bonus of then also being able to accommodate licence progression for both wholly local and tunnel trained students, and it also ensures consistent standards. The following updated system was put forward at the recent skills camp at Pretoria Skydiving Club, and discussed by many of the country's senior jumpers and coaches.
Cat II
Remains exactly as is: 2 jumps, with either a HU or a AE Coach in which the student proves their ability to fall down the tube safely, without corking, and with alti checks. Two jumps are mandatory.
Cat III
Remains as is: one jump which teaches vertical movement and one which teaches horizontal movement. These jumps need to be performed exactly as prescribed and may not be 'combined' or altered.
C-Licence Jumps (two in total)
Three way Head Up jump. One jumper must be a HU / AE Coach. Both other jumpers may be 'students' - although it may also just be one student, one coach & one competent HU flyer. Exit is HU and unlinked. The 3 way to fly in proximity and on level. Student (1) to fly through the space between the two other jumpers and perform a 180 degree in the process, thereby creating a new formation (swopping slots). The other jumper and coach each have a turn to do this too.
Three way head up jump. One jumper must be a HU / AE Coach. Only one jumper may be a student. A two way is formed by the coach and other competent skydiver. The student docks this formation for 2 seconds. Formation is not specified but stair-step is recommended as the easiest.
D-Licence Jumps (two in total)
Three way Head Down jump. One jumper must be an AE Coach. Both other jumpers may be 'students' - although it may also just be one student, one coach and one competent HD flyer. Linked HD exit, flower to round. Jumper 1 & 2 form an accordion off jumper 3. Then Jumper 2 & 3 form an accordion off jumper 1. Then Jumper 3 & 1 form an accordion off jumper 2
Three way head HD jump. One jumper must be an AE Coach. Only one jumper may be a student. The student exits unlinked and docks the two way formation formed by the other two jumps last. Formation is not specified but a round is recommended as the easiest.
So these are again even fewer jumps than the current 3 for C licence and 7 for D Licence, as it is only 2 jumps per licence. This is in comparison to the FS students who have to achieve 5 & 14 jumps respectively for their C & D Licences. It was also suggested that all people who have started their C or D licence jumps as per the current system are given until the end of this calendar year to complete their jumps, or they will need to start again on the new system. Since there are actually fewer jumps in the new system we imagine most people would just want to go the new route immediately.
The AE Committee would like to invite the entire PASA community to comment on these changes by 19 July 2015 by email.
---
Pam Russell, D907

WPSPC (now trading as Skydive Robertson) was founded on 8 May 1972 and so each year we celebrate those jumpers who built our club with a gathering some time around that date. It's an occasion to reminisce and an excuse for our guests to revisit their youth. We lovingly call this the "Old Pharts" weekend.

Many of the Old Pharts are past Chairmen or Instructors and so there is always a lot to learn. This year was no exception. In fact, the learning started some time in May last year when they started to grumble about last year's effort (they are mostly old men so you'd expect a bit of grumbling). The new brief was simple, more jumps and more boobs.

So this year we ensured we had plenty of packers to deal with the extra pressure on our student freefall gear. Turnout was lower than expected because of a last minute change in dates, but those who did arrive were keen to get rebriefed and get out there. All went well and most of them got 2 in. Typically, most of them landed directly on the target they'd set up in the landing area. So much for un-currency.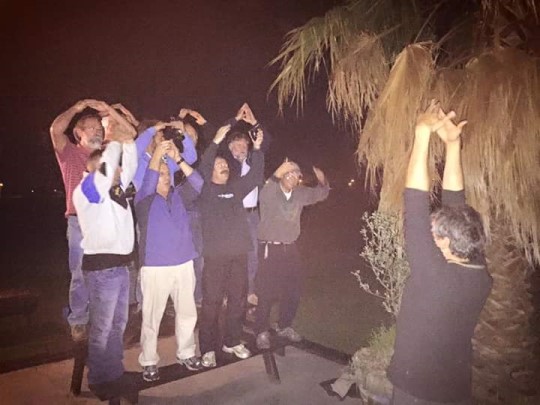 Round the fire, the Citrusdal Male Voice Choir appeared as usual. I can't call it the Robertson Choir. It just isn't. For many of our younger jumpers it was the first time they'd seen it even though YouTube has at least one version available for the curious. Andre d'Argent made a sterling choirmaster in the absence of Rod Baker and it was a first class performance.

Which I suppose earns a first class performance in return. The new tradition of taking and posting pictures of everything you experience, was introduced to the old tradition of breaking your wrist if you dare. With the coast clear, the boobflashes were done and the brief was met. There may have been a little more partying after that and very little jumping by our visitors on Sunday, but there was no grumbling about the quality of OP 2015.

See you all next year guys!
---
Another bit of exciting news from the SSA AE Committee is that we are launching a competition for all Intermediate Freeflyers, which will run along the lines of how the SASL worked in the past. That is to say, a monthly dive will be published which jumpers will have to complete as a 2 way, by submitting the footage of their best jump to our event Judges; Dirk Venter and Claire King.

These skydives will be based on the 8 compulsory moves in the Intermediate Compulsory competition rounds, and so give everyone an excellent chance to practice these essential manoeuvres. Jumpers will carry their individual scores, for a period of 12 months, so that you can perform these jumps with any other Intermediate freeflyer and so don't need to stick to a specific 'Team'. Camera flyers can be senior skydivers. At the end of the 12 month period, the individual with the highest score will win a customised Freefly Suit.
We are still negotiating with a few international suppliers, so we will confirm the brand of suit soon (think Sonic or Boogieman!). There will also be a second prize which we're hoping will be either an audible altimeter.

Join the SSA AE Facebook group to stay up to date with this competition as it progresses.
---
---
Eugene ("Pottie" Potgieter), D860
We as skydivers very easily forget about the world around us. There are so many opportunities one can explore and use to our advantage.

A number of years ago, JSC received news of an informal settlement being developed right on our doorstep. Naturally, having heard what happened to other clubs in other similar circumstances, we panicked and feverishly started looking for alternative airspace. We were DOOMED!
After realising after many meetings and fruitless negotiations that this is going to be what it is, circumstances forced us to face reality and to accept it. Our vast open area is to be shared with a bunch of "Whuffo's".
With acceptance came more calculated thinking and we eventually came to the conclusion that each "threat" opens a new gate to opportunity. Firstly, we needed to address the safety issue. Runway – Aircraft- Neighbourhood kids – Curiosity = PROBLEM! We started to negotiate a proper fence, not only around the runway, but around the entire 3.5 km perimeter of our Drop zone.
It took two years of correspondence to break through the red tape and Government Budget Meetings to even make this possible. Luckily, we have built a great relationship with our local Government over a number of years. So much so that they even stepped in as the main sponsor of the 2009 Canopy Piloting World Cup held at JSC! So the partnership already was there, we just needed to negotiate an extra mile (or three).
We have always made a point of advertising all tourism activities at JSC in our local media. The fact that JSC was a tourism attraction, started to sink in more by the day, especially after hosting a very successful Canopy Piloting World Cup through great team work (with invaluable assistance from Pete Lawson), the Local Government really started to adopt our club as a set Tourism Asset to Merafong City (Carletonville).
We soon got invited to participate in tourism forums and got acknowledged as a major Tourism Experience Attraction. The first round was in 2013 and we decided to promote our static line course, which resulted in JSC receiving the Gold Award in the Tourism Adventure category.
This year, we again received an invitation to enter for our static line experience. However, since we started to run our very own JSC Tandem operation which turned out to be a ROARING success, we convinced the judges that Tandems would rather be the way to go.
They were a bit reluctant at first but, after some motivation and showing them our phenomenal DVD packages, they just had to agree. We explained in detail that the tandem being an introductory training skydive, is an open door to a life changing freefall experience. Needless to say, the event judges ended up doing a tandem!
Our supporting structure was phenomenal! From the receiving hosts (standard at JSC), right through to the canteen, food, beverages and the supply of the final product (DVD), these guys were simply blown away!
The next word we received, was that we were being invited to the Silverstar Casino to attend the West Rand Tourism Awards Ceremony. I was expecting this and we were positive of getting a prize at the ceremony, which was quite a do – Dress: Semi Formal etc.
Upon arrival, we were surprised by the number of people and nominees. Especially when learning that all present were, in fact, nominated for awards!
First in our Category, the adventure category, we received the Gold Award as hoped for. Having done that, we pretty much thought that was it, but that is only where it started! On the Tourism Experience Award, having to compete against lodges, spa's and very popular restaurants (oh yes, and Silverstar Casino) we got called up to receive the floating Trophy for the Best Tourism Experience of the Year!
We were speechless! Bev, Pam and Roger also could not believe this! But it was not over yet! Next up, were the Platinum Awards. There are only a set number of Platinum Awards allocated to the categories where achievers excelled in tourism experience.
Huge was our surprise when JSC was called up again, to receive the Platinum Award for Best Tourism Experience of the year in the West Rand!
Well, that was it! We were completely overwhelmed and overcome with joy. It could not get any better than this!
Next up were special awards for individuals and institutions. To my disbelief I got called up (calling me Pottie nogal) to receive the award for the West Rand Tourism Ambassador of the Year Award!
This was so unexpected! Had it not been for the continuous building of partnerships and relations with the local community, this would never have been possible! Having received these awards caused our local Government to not only take pride in JSC, but also to take ownership of us. JSC is currently receiving a 3.5 Km "Clear Vu" perimeter fence from Local Government out of pure recognition of our Sport to our community.
We are so proud to be a part of it! Now we are holding thumbs for the next round on a national level. We automatically received a nomination for the National Lilizela Awards!
Exciting times!
---

Fred Potgieter, Mike Rumble, Karen Potgieter
(Photograph courtesy of Philippe Charron)

With 6 months of operations behind us (only breaking to attend Nationals at RSC), we are pleased to report lots of gravity-powered fun being had in the skies just 70 km north of Cape Town.
The views are spectacular, the vibe is cool, and we are skydiving during the week when most of you are working!
Our team of passionate skydivers is growing, our grass landing areas are improving all the time, and we have been doing some nice show jumps in the local area.
The more support we get the higher we will go, the faster we will get there, and the more awesomeness we can make happen.
| | |
| --- | --- |
| | |
A non-student drop zone, you need at least a B-Licence, your own equipment, and be able to pack your own parachute.

Operations are bookings and weather dependant so please call, email, or Whatsapp to advise if you want to come out, and to be added to our Whatsapp communication group.

Thanks for your interest and support…

Blue Skies
Mother City SkyDiving
www.MotherCitySkyDiving.co.za

079 337 2443
---
Some highlights from the Skydive Rustenburg events calendar for 2015. Contact Danelle Field for more information:
| | |
| --- | --- |
| 11-12 July | 8-way camp |
| 25-26 July | Christmas in July |
| 1-2 August | Hit and Rock Competition |
| 15-16 August | Night jumps |
| 29-30 August | Freefly camp |
| 5-6 September | Microlight jumps |
| 18-20 September | PRO Rating course |
| 25-27 September | Canopy Control course |
| 31 October | R1000 jump as much as you can 1 day boogie (T&C apply) |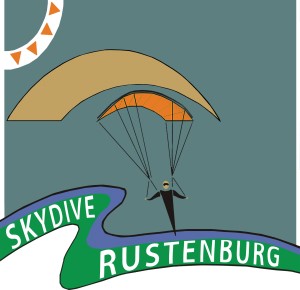 ---
---
Special for June, July and August 2015:
If you complete 10 jumps per month, then your slot rate will be R270.00
Complete 18 jumps per month - and your slot rate will be R260.00
For 25 plus jumps per month - your slot rate will be R250.00
Email your manifest request in to take advantage of these rates.
---
Feel like 3 rounds of 4-way Novice and 4-way Open action and to shake off the cobwebs before the Peter Lawson Cup? Or does CP distance Intermediate and CP distance Open appeal more to you?
Entry of R100 per competitor goes into the relevant competition category's prize money pool. Camera person can compete for the camera prize money pool, with R100 entry. The winner/s per category take all.
Be quick to manifest, first come first served and normal slot rates will apply.
4-way FS:
If you have never competed in 4-way Intermediate or Open category before, you are eligible to enter in the Novice category.
Good news for those weekend warrior social teams!!
Entry fee: R400 per team (R100 per competitor and optional R100 for camera person), payable on the day
Manifest: Teams to enter by manifesting 3 rounds with Hettie
Date: Saturday, 18 July 2015
Novice Draw: 3 point random formations only, 3 rounds
Open Draw: 5 point random formations only, 3 rounds
Camera: Organise your own.
CP Distance:
Your classification is as per the MOPs. Speak to Christopher Teague and Rob Kruger!
Entry fee: R100 per competitor, payable on the day
Manifest: Competitors to manifest 1 round with Hettie
Date: Sunday, 19 July 2015
Intermediate: 15 foot entry gates to touchdown; 1 round distance
Open: water drag or visual entry gates till touch down; 1 round distance

---
---
---
The SSA CF committee is planning a CReW/ CF camp at Rustenburg Skydiving Club on the 15 & 16 of August.

We are urging ALL to come and try their hand at CreW.

Especially those who have hundreds of jumps in the same discipline, step out the box and try a new discipline and sharpen some canopy skills.
Guarantees:

You WILL have first jump jitters,

You WILL do things you have never done before,

You WILL learn new skills,

And most of all, you WILL have FUN!!!

All persons definitely attending should please mail

Sharky

direct so that we can get planning sorted!
---
Building on the success of the 2014 event, the Makgadikgadi Epic Botswana Boogie will once again be organised by Skydive Botswana and SkyDiversity Skydiving. Details are still to be confirmed but skydivers attending may expect the awesome CASA 235 as primary jumpship with additional lift capacity from 2 Turbine Atlas Angels. Accommodation, transport and subsidised jump rates are being negotiated at present and final details and information will be released shortly.

Save the date for this year's Makgadikgadi Epic taking place at Nata Sanctuary Botswana from the 2nd to the 4th October 2015. For further information and early bookings email Danelle or call 0793457058.
---
Venue: Pretoria Skydiving Club, Wonderboom

Dates: 12 Dec 2015 to 16 Dec 2015

Aircraft: PAC 750

Altitude: 12000ft AGL

This event will be catering for senior FS 12 ways and senior AE Large formations.

Coaches and camera will be supplied for both disciplines.

These organised jumps will be for jumpers that are proficient in these disciplines already.

Contact Hettie for more information
---

Suppliers & Manufactures of fine Skydiving Equipment

Need Skydiving Gear?
New or Second Hand
Reserve repacks and repairs
Accessories:
Jumpsuits, Parabags, Packing mats, Helmet Bags,
Altimeters - Wrist mount & Audible, Helmets,
Hook Knives, Goggles, Skydiving Videos/DVD's, Skydiving T-Shirts
Visit our Shop
138 - 7th Ave
Edenvale
Gauteng
Contact: Manuel Cordeiro
Website: www.icarus.co.za
Email: manny@icarus.co.za or icarusaw@global.co.za
Telephone: 011-452-8858 / 083-252-8720
---
Join us from 19 December 2015 until 3 January 2016 for a Boogie to remember.
The PAC 750 has been confirmed.

Hosts, EP Skydivers, would love to have as many sport skydivers as possible representing all disciplines at the Boogie.

Dynamic coaching duo, Claire and Dirk, will be attending and assisting with FS and load organising.

We look forward to welcoming friends, old and new.

Email Joos or call him on 082-800-9263 for more information.
This could be YOU!
---
Antonio Bianco

(19 September 1975 – 4 April 2015)
Jimmy Parrella, D916
L'amico Antonio
Vi racconterò chi era Antonio Bianco
Ricordo il giorno che conobbi Antonio, ero al Club dei paracadutisti di pretoria dove tutt'ora insegno come istruttore ai giovani futuri paracadutisti.
Era una bellissima giornata e quella mattina intorno alle 10 mentre camminavo verso l'aereo sento una voce "nuova" dietro di me che dice:"Jimmy?" Mi volto e vedo questo ragazzo con un bellissimo sorriso e con gli occhi che parlavano da soli, ancora Antonio ripete:" Ciao! ma tu sei Jimmy?" E io immediatamente rispondo:"hey! Ciao..Si sono io Jimmy!" Lui, come se mi conoscesse da sempre mi disse:" Ciao sono Antonio, ti stavo cercando per conoscerti, ho sentito molto parlare di te", in quel esatto istante ho avuto la stessa impressione e sensazione come se lo conoscessi da sempre.. Le energie positive che trasmetteva, con quella felicità e umiltà di quando parlava di Paracadutismo, cosa che non è da tutti i paracadutisti!
In pochissimi minuti, avevo incontrato un ragazzo che mi ha lasciato il segno, tornai a casa, ed era la prima volta che dissi a mia moglie Chiara che avevo conosciuto un ragazzo incredibile di nome Antonio e che lavora come Carabiniere All'Ambasciata Italiana a Johannesburg.
Antonio non perdeva occasione di parlare di quanto amava i sui figli e di quanto gli mancavano.. della sua meravigliosa famiglia in italia, del suo tanto amato lavoro nell'arma dei Carabinieri, di come affrontava con orgoglio le sue missioni nel lavoro e dei risutati ottenuti nello sport che piu amava .. Il paracadutismo.
Ecco chi era Antonio! Un ragazzo incredibile!
« « « » » »
I'd like to tell you about my friend Antonio Bianco.
I remember the day I met Antonio. I was at Pretoria Skydiving Club where I am an AFF Instructor.
It was a beautiful day and that morning, at around 10, as I walked toward the plane I heard a "new" voice behind me saying: "Jimmy?" I turned to see this guy with a beautiful smile and eyes that spoke for themselves, and he said again: "Hello! Are you Jimmy?" And I immediately said, "hey! Ciao.. Yes, I'm Jimmy!" As if he'd always known me, he said, "Hello, I am Antonio, I was looking forward to meet you, I've heard a lot about you." At that moment it felt as if I too had always known him. He had a positive energy, with a happiness and humility when he spoke of Parachuting, which is not very common.
Within a few minutes of meeting this guy had made an impact on me. I went home, and told my wife, Chiara, that I met an amazing guy named Antonio that works at the Italian Embassy in Johannesburg as a policeman.
Antonio never missed an opportunity to talk about how much he loved his children and how much he missed them, about his wonderful family in Italy, his beloved work and how proud he was of his missions and about his beloved sport of skydiving.
That's who my friend Antonio was! An amazing guy!
Braam van Heerden, C1799




I look for you in the sky.

B
---
René-SKY Keller

(4 November 1989 – 26 April 2015)

Pam Russell, D907
Rene "Sky" Keller was a second generation jumper who came to Robertson as a gangly teenager wearing his mother's old jumpsuit. As a DZ kid he fitted in immediately and started to carve out his niche. This did mean pushing a few boundaries and testing a few limits. But on the whole he was a gentle soul who took in information eagerly. He had started to understand the risks inherent in canopy piloting, and to realize that he was a novice. Novice or not, he was emulated by a couple of newly minted As and Bs and earned the gratitude of his Instructor body by getting across the kinds of messages that As and Bs can only hear when they come from a peer. He was an immensely skilled freefaller and would have been a great teacher. Despite his loss, we know he enjoys one or two track dives across the Robertson skies every Saturday and Sunday, carried in the hearts of all of us.
Here follows a heartfelt tribute by his best friend and favourite Manifest officer, Natasha Beyer:
Tragedy has struck our skydiving community too often this year and although most of you may not have known him, those who did experienced a great loss when Rene "Sky" Keller passed away on 26 April 2015, while in training for Nationals. He was only 25 years old and had an extremely bright future in skydiving. It was his true love and he had so much passion for the sport that people envied it.
He did his first tandem skydive at the age of 14 and his first solo jump at 16. He went from first time jumper to sky-god in no time - although he would not have called himself that.
With just over 820 jumps he was well on his way to achieving greatness in the sport. He had a skill set that allowed him to jump in any discipline, from wingsuit to freefly, swooping, tracking and even belly flying when required. He was working towards his D licence, had his Pro rating as well as his head up coach rating requirements, and was in the process of doing his jump masters rating.
He will forever be remembered for his enthusiasm to jump, which secured him a slot on almost every load wherever he went, and his total addiction to swooping but most of all, as an extremely successful and talented camera man. Working in the film industry gave him an enviable advantage. His creative eye combined with his flying skills put him a level above the rest.
We at Skydive Robertson will forever be grateful that he was part of our family and that we got to share his love, dreams and goals for skydiving with him. We will miss him terribly, but will always strive to keep Sky alive in memory, our hearts and the big blue.
Forever blue skies.
R.I.P buddy!
Natasha Beyer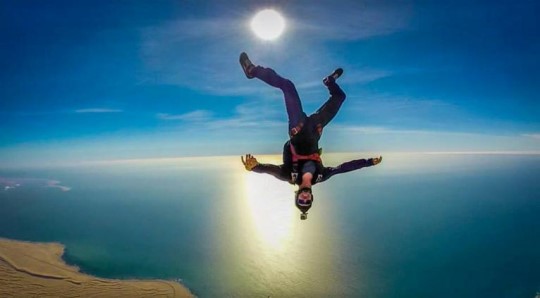 ---
PASA has added new functionality to the admin system to include online application for new licences and ratings and for rating renewals.
What does this mean for members?:
If you are an existing, paid-up member who would like to apply for a new licence or rating, you can ask your Chief Instructor to generate an online application for you or contact the admin office to do so.

You will receive an email containing a link to your online application.
Select the new licence or rating.
Complete the requirements and upload any supporting documentation, as may be required.
Click on apply to route the application to your Chief Instructor for approval.
After your CI has approved your application, it will route to the NSTO and, finally, to the admin office where we will check that the required payment has been received before processing.
Once processed, you will receive a confirmation email.

If you are an existing member who has NOT renewed for the current year, you will need to contact the admin office to request a new renewal form to be generated for you.
New members joining for the first time, will be required to complete page 1 of the PASA General Application form and submit to the admin office to create a membership profile. The admin office will then generate an application form if the new member is also applying for a licence.
All paid-up members as at the end of the current membership year will receive an annual online renewal reminder in March 2016 and will be able to complete the renewal as well as any rating renewals and/or new licence or rating applications online.
Feedback on the system as well as suggestions for improvements are welcome and can be sent to the PASA admin office.
---
The 2015 Aero Club Annual Awards dinner will be held on 7 November 2015. A number of awards and trophies are presented at this dinner including colours for teams who have represented South Africa at World Championships as well as recognition awards for other achievements. All sections of the Aero Club may nominate recipients for Aero Club Silver Wings and Aero Club Gold Wings awards. These are very prestigious awards and nominees must have had a noteworthy impact on their respective sports, and on a national basis.
PASA's Management Council, will consider nominations received and put forward to the Aero Club those that meet or exceed the following criteria:
The awards are to be respected for the prestigious accolade that they are.
The Aero Club is a national body - these awards are intended to be bestowed upon people who have had an impact on the sport on a national basis (not just at one local drop zone).
Only people who have been nominated by members from more than one drop zone around the country will be considered for the awards (thereby showing their far-reaching impact).
Nominations for Gold Wings must be people who have made an impact on the sport, on a national basis, for a period of at least 10 continuous years.
Nominations for Silver Wings are for people who made an impact on the sport for at least 5 continuous years and have provided exceptional service or run exceptional projects during that time.
With the above criteria in mind, we ask for nominations for the 2015 Aero Club Gold Wings and Aero Club Silver Wings awards. Nominations are to take the form of a citation outlining why you believe this person deserves the award and highlighting their achievements and/or service. Email nominations to: admin@para.co.za. Please ensure that the person you wish to nominate fulfils all the criteria listed above. Nominations for people who do not meet the criteria and/or are not accompanied by a citation cannot be considered.
Without the involvement of the skydiving community, we cannot ensure that those who deserve recognition, receive it - please make every effort to get involved and take a few minutes to nominate someone who has had a positive impact on your skydiving career.
Nominations will be accepted until close of business on Friday, 14 August 2015.
---
Lic/Rating
Name
Drop Zone
A Licence
A7409
Cobus van Zyl
Pretoria Skydiving Club
A7410
Cindy van Zyl
Pretoria Skydiving Club
A7411
Gerry Snyman
Johannesburg Skydiving Club
A7412
Shaun van Wyk
Johannesburg Skydiving Club
A7413
Thys Dannhauser
Johannesburg Skydiving Club
A7414
James Du Preez
Johannesburg Skydiving Club
A7415
Gabriel le Roux
Pretoria Skydiving Club
A7416
Anchen Martens
Durban Skydive Centre
A7417
Nick Dearlove
Johannesburg Skydiving Club
A7418
Matthew McGillivray
EP Skydivers
A7419
Antonie Swarts
Johannesburg Skydiving Club
A7420
Slade Vandrau
Witbank Skydiving Club
A7421
Reinhold Gregorowski
Pretoria Skydiving Club
A7422
Charn Janssen
Durban Skydive Centre
A7423
Lynsey Houston
Johannesburg Skydiving Club
A7424
Tanje Britz
Skydive Rustenburg
A7425
Leon Oosthuizen
Pretoria Skydiving Club
A7426
Clifford Gobetz
Johannesburg Skydiving Club
A7427
Justin Andersen
EP Skydivers
A7428
Nicolas Gil
Pretoria Skydiving Club
A7429
Mahdi Azaar
EP Skydivers
A7430
Oday Aburaida
EP Skydivers
A7431
Rick du Preez
Skydive Mossel Bay
A7432
Carolynn King
Skydive Robertson
A7433
Rohan Hayes
Skydive on the Vaal
A7434
Charl van der Westhuizen
Pretoria Skydiving Club
A7435
Nigel Alexander
Skydive Robertson
A7436
James Taylor
Skydive Robertson
A7437
Brendon Nortier
Johannesburg Skydiving Club
A7438
Greg Fletcher
Johannesburg Skydiving Club
A7439
Francois van Dyk
Witbank Skydiving Club
B Licence
B2938
Marc Stewardson
Pretoria Skydiving Club
B2939
Angus Baikie
Skydive Rustenburg
B2940
Jessica de Villiers
Johannesburg Skydiving Club
B2941
Travis Baikie
Skydive Rustenburg
B2942
Benja Jansen
Pretoria Skydiving Club
B2943
Toy Prinsloo
Johannesburg Skydiving Club
B2944
Harry Sinko
Johannesburg Skydiving Club
B2945
Emil Raal
Johannesburg Skydiving Club
B2946
Roxanne Williamson
EP Skydivers
B2947
Rob Temlett
Skydive Robertson
B2948
Steven Warriner
Johannesburg Skydiving Club
B2949
Shaun van Wyk
Johannesburg Skydiving Club
B2950
Jaco Scott
Skydive Mossel Bay
C Licence
C1849
Michael Walker
Johannesburg Skydiving Club
C1850
Ilke Greeff
Johannesburg Skydiving Club
C1851
Dylan Hemer
Durban Skydive Centre
C1852
Philippe Charron
Skydive Cape Town
C1853
Andi Fuidge
Skydive Cape Town
C1854
Maryke Prinsloo
Johannesburg Skydiving Club
C1855
Gerhard Schoeman
Skydive Rustenburg
C1856
Carmen van Vuuren
Pretoria Skydiving Club
C1857
Lee Moorcroft
Pretoria Skydiving Club
C1858
Steven Booyzen
Witbank Skydiving Club
D Licence
D938
Hendri Liebenberg
Skydive Rustenburg
D939
Renier Jordaan
Skydive Rustenburg
Jumpmaster Rating
JM1288
Gareth Drysdale
Johannesburg Skydiving Club
JM1289
Charles Krohn
Witbank Skydiving Club
JM1290
Dean Benson
Witbank Skydiving Club
AFF Instructor Rating
AI86
Angelique-Marie Pierry-Sharman
Pretoria Skydiving Club
Parachute Technician Rating
RP96
Rob Kruger
Pretoria Skydiving Club
Tandem Master Rating
TM169SG
Waldo Prinsloo
Pretoria Skydiving Club
TM170SG
Bertus Haring
Witbank Skydiving Club
Tandem Master Conversion
TM164SG
Bailey Edmunds
Pretoria Skydiving Club
V = Vector
SG = Sigma
ST = Strong
Coach Rating
CH153W
Hendri Liebenberg
Skydive Rustenburg
CH155F
Pamela Turner
Johannesburg Skydiving Club
CH156F
Bruce Tait
Skydive Rustenburg
F = Formation Skydiving
A = Artistic Events
C = Canopy Formation
P = Canopy Piloting
W = Wingsuiting
S = Freefall Style & Accuracy Landing
---
---
Thank you to everyone who contributed to this issue. If you have any stories, pictures, comments or suggestions please send these to news@para.co.za
If you are interested in advertising in this newsletter, contact admin@para.co.za for more details.
---
PASA and the Toggle Times cannot be held responsible for any errors or omissions, due to all content being submitted without verification.
---