Old Man John - A Tribute
Xmas in July Skydive Festival
Freefly at Xmas in July Festival
World Games
41 years on...
Voodoo shine at UK Nationals
JSC Canopy Control Course - 7 to 8 September 2013
Rustenburg Boogie - 21 to 24 September 2013
AE Intermediate Freefly Competition
Win Win Win with the SA Skydiving League
Pretoria Skydiving Club's 50th Birthday
An interview with... Peter Lawson
Becoming a PASA Skydiving Judge
Perris Big Way Camp 2014
Licences and ratings issued
Aero Club Mission Statement
John Webber Browett

"Old Man John"

9 October 1925 –
26 August 2013

It is with great sadness that we share the news of the passing of our beloved Old Man John, D888 on Monday morning, 26 August 2013. He was 87.

Old Man John was born in 1925 in a little seaside town in Devon, England. He left school and worked, first in a bicycle repair shop and then in a war factory, until he was able to join a World War II Paratroop Regiment. After the War, he joined the Hong Kong Police where he worked his way up the ranks to assistant commissioner in charge of the Hong Kong Island District - home to about 3 million people. When the time came retire, he chose South Africa and finally settled in Umkomaas in Kwazulu Natal.

In 1990, Old Man John's son, John Browett, did a skydiving course at the then Pietermaritzburg Parachute Club. A visit to the club got John Senior interested in the AFF course. Being 65, he obtained his doctor's approval before doing the course. He never looked back and continued his skydiving career until late in 2012.

Over the years, Old Man John skydived in South Africa, Mozambique, Swaziland, Scotland, Spain, Hong Kong and the USA.

He did his 800th skydive in 2005 with Solly Williams, Graham Harding, Cliff Dobson and Doug Park.

John was the driving force behind the establishment of the South African chapter of the Parachutists Over Phorty Society (POPS) in November 2005 and was elected the first South African Top POP.

In March 2008, at the age of 84, he set a POPS World record for Jumpers Over Eighty when he formed a 5-way at Skydive Lake Elsinore, California, USA with George "Bud" La Pointe, Walter Ross, Tom Morrison and Stan Perrine. All members of the 5-way were over 80 and totalled some 409 years between them.

As a token of respect and affection, PASA awarded John an Honorary D licence in June 2010. Having spent nearly 30 years in Hong Kong, he had absorbed much of the Chinese culture and, with the number 8 being an auspicious number in that culture, it was particularly fitting that he be awarded licence number D888.

In September 2012, Old Man John visited his friend Fred Whitsitt at Skydive Miami where he did a 2-way skydive with his son John and, on his last day in Miami, he did his 888th skydive with a group of good friends – Guy Manos, Pam Manos, Susy Manning, Greg Frank, Randy Melfi, Fred Whitsitt and Lenny Wolf (camera).

Old Man John touched the lives of all who were fortunate to know him and he will be greatly missed.

Fare thee well, friend.
---
---
By Christine Daffie

Hosted by: The Bloemfontein Parachute Club Members

Date: 26 – 28 July 2013

Place: Skydive Central, Bloemfontein

Christmas most definitely came early this year when 56 skydivers, local and from across South Africa, gathered in Bloemfontein for the Xmas in July Skydive Festival.

Supported by the SSA, the event reflected nothing less than sportsskydiving at it's best, with the availability of student progression, Wingsuit-, CF-, FreeFly- and FS- coaching for all jumpers.

4 Skydivers partook in a Wingsuit first flight course, presented by Oliver Nöthen and Marcel Vliegenthart, whereafter a record breaking 62 Wingsuit descents were done over the course of the weekend. Congratulations to Johan Smith, Olaf Ohlssen, Brandon Rothero and Michael Bonandrini on your achievements.

Various skydivers partook in a CF course, presented by Rogan Maclean and Graham Field, with Gerald Williams and Michael Bonandrini obtaining CATII status thereafter.

The event also saw FreeFly progression at its best, with various jumpers obtaining CATII and CATIII status. Peter Hewitt, a paraplegic skydiver from Cape Town, proved to be a huge inspiration and obtained CATII status in FreeFlying. Congratulations to Peter Hewitt, Olaf Ohlssen, Tommy Venter, Brandon Rothero, Stefan Scheepers, Jaydee Ladell and Danielle Pentz on your achievements.

The weekend ended with a 100% safety record and the event was a huge success. 40 loads were flown by Atlas Angel WSP, with 341 descents. Warm bonfires kept everyone warm at night, new friendships were made and 155 cupcakes were consumed…

A huge thank you to Skydive Central, BVK Club Committee and members, Gstar Graphics, the SSA, and every single person who supported the event.

You helped… "To foster, develop and facilitate sport parachuting, in all its facets, within South Africa, in the safest and most progressive manner."
---
By André du Preez


During the weekend of 26-28 July, Skydive Central hosted their Christmas in July Skydive Festival and invited me to do some freefly coaching. I was pleasantly surprised with the turnout of people coming from far and wide. I had freefly students from all over, including Bloemfontein, Durban, Grahamstown, Pretoria and Johannesburg.

We started the freefly training on the Friday afternoon, with absolutely awesome weather, which lasted until Saturday afternoon, when some wind came up, but subsided later and we were back on the loads. In total, I did 18 freefly dives, including 17 freefly coaching jumps and shooting video of a wingsuit rodeo jump. And what an awesome jump it was with Jaydee Ladell riding the Oli Express!

My aim for the weekend was do "demystify" freeflying, by breaking it down to its most basic building blocks and showing my students how easy it is if you just follow those basic steps. All of them really absorbed the information and performed excellently.

Congratulations to:
Jaydee Ladell on passing her Category II Freefly jumps. Thanks for the awesome jumps, especially the memorable wingsuit rodeo.
Mikhaila Danielle Pentz on passing her Category II Freefly. Thanks for the very cool and super fun flying.
Tommy Venter on passing his Category II Freefly and Category III Freefly.
Olaf Ohlssen on passing his Category II Freefly and Category III Freefly.
Stefan "Skippy" Scheepers on passing his Category II Freefly, Category III Freefly and C-Licence Freeflying Jump 1 all in one skydive. Impressive!
Brandon Rothero on passing his Category II Freefly, Category III Freefly and C-Licence Freeflying.
You guys made me proud!
Now, for the real major achievement for the weekend.

Peter Hewitt, a paraplegic skydiver, passed his Category II Freefly jumps.

He flew head-up on perfect heading and did smooth, controlled turns in both directions while in head-up as well.

Thanks for the awesome jump and the inspiration.

You're proof of what the mind believes the body can achieve.

I love coaching you and together we're exploring the unexplored, challenging perceived boundaries and overcoming every obstacle along the way so far.

BIG SMILES!!

You make me proud and humble.
---
---
---
By Julie Teague

Canopy Piloting was one of the best supported events at the World Games held in Cali, Colombia from 25 July to 4 August 2013. The sold out stands remained packed for 3 days despite the overwhelming heat and lack of shade. Chris Teague was South Africa's only entrant, given that only the top 36 internationally ranked skydivers were invited by the FAI to attend. An unfortunate zero score in the first accuracy round eliminated Christopher from the top 20, but he was extremely pleased with the event overall.

It was the first chance he's had to compete using the Performance Design prototype canopy which has definitely become a game changer in the sport. Chris had placed 15th at the last World Champs on a 90 square foot Velocity canopy, which he has thousands of jumps on, and managed to secure 23rd place on the 71 square foot Peregrine canopy which he managed to put 60 jumps on in two months before the competition; and so feels that this event was an excellent learning opportunity.

Says Chris, "This is the first time in my skydiving career where I've been part of a broader team. The support, encouragement and interest from the other Team SA Athletes and SASCOC staff was incredible, humbling and really motivating". He's looking forward to putting what he's learnt to good use at the CP Competition at PSC in October, which forms part of their 50th Birthday celebrations. Although he's going to miss out on competing at this year's CP World Cup in Kolomna, Russia, he also plans to take on the world again at next year's US Nationals and possible CP World Champs - which Zephyrhills have already put in a bid to host.

Over and above the skydiving, the event itself was just incredible. Where else would you get to watch the SA Ladies 'Tug of War' team take bronze? Travelling with the Blitz Bokke (Rugby 7's) was a real honour - particularly given it was their last year in the World Games, as they will be taking part in the Olympic Games in future; real proof that the World Games are having the desired effect.


Chris and Julie Teague with Billy Sharman at the World Games
---
---
---
41 years after doing his first jump there, Leen Vliegenthart, D316 recently

returned to Texel in Holland where his son, Erik, got to join him for a jump.
---
Team Voodoo competed as a guest team in 4-way FS at the 2013 British Open Nationals held from 24 to 26 August at Skydive Hibaldstow in North Lincolnshire scoring an impressive average of 18.90 - the second highest score of the meet.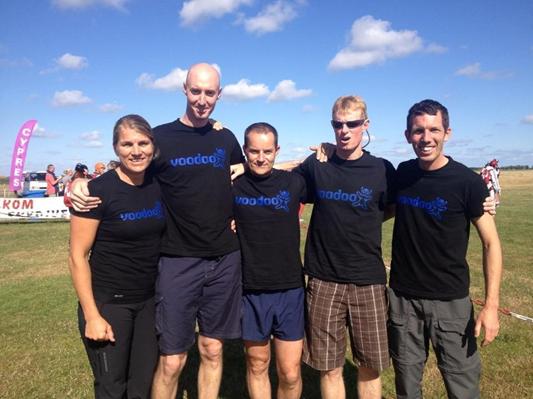 Vana Parker, Dave Sumter, Dennis Parker, Gary Smith and Erik Vliegenthart
---
Can't Land your Canopy??


Thinking of Downsizing??

Get more from your canopy!

Join the JSC Canopy Control Course - ONLY R200 to sign up.

7 & 8th September 2013

From Basic to Advanced, Canopy control seminar

All jumps are briefed, videoed and de-briefed

5 Jumps for R1000

But wait, there's more.....

FREE entry into the accuracy competition with the chance to win prizes

To sign up Email Liz

BECOME A BETTER PILOT

---
---
Don't miss out on our Big Boogie of the Year at Skydive Rustenburg - the dropzone where you have lots of fun – from 21-24 September 2013.
This year we are having our Boogie at Rustenburg Skydiving Club so that it is close for everyone to attend.
We will be having 16 ways, FS, AE, CF and Frederik Potgieter will be holding a wingsuit competition for all the wingsuiters.
We also have a few guys that want to do 12 ways and bigger formations just for fun and they call themselves the B-Team so anyone up for fun with these guys please let us know.
There will be a hit and rock competition - R100 entry fee winner takes the money - more info regarding that will be explained at the event on Saturday, 21 September.
There will also be a massive party at the club on Saturday 21 September with 2 awesome DJ's and Skydivers Brad and Taz.
Things to jump out of:
we will have 2 x Atlas Angels slots at R280 per slot
we will also have balloon jumps at R1000 per jump only 8 slots available
Registration Fee to join this fun weekend is R300 which includes:
T-Shirt
Goodie bag with lots of stuff
Membership fees for all 4 days
Camping
Free Party
Please visit our facebook groups here or here to see updates or email us for more information or call: 079 345 7058
Accommodation in the area if you do not wish to camp:
There are a lot of guest houses in the area and hotels but guys you have to book NOW if you want space it will be school holidays so places will be packed, if you wait too long you will be camping!
http://www.afri-chic.co.za/
http://www.cozynook.co.za/
http://kettleguestlodge.com/
http://www.rusthaven.co.za/
https://www.citylodge.co.za/roadlodge_hotels.php
http://www.tsogosunhotels.com/stayeasy/rustenburg/pages/overview.aspx#.UhR3cdIwdV8
http://stopnstay.co.za/
http://www.wheretostay.co.za/pineinn-lodge/
http://www.orionhotels.co.za/hotels
http://www.waterglen.co.za/
Blue Skies and Great SkyDives...
Awesome news and support from our friends at Parachute Systems for the Skydive Rustenburg Boogie of the Year:
We will be drawing a prize winner on the final day of the event which will be a custom Parachute Systems Vortex II container to the value of R 13 765
To qualify for this fantastic prize you need to be a registered skydiver at the boogie i.e. be a current PASA member and have paid your R300 boogie registration. In addition, for each day you jump at the boogie you will receive 1 entry to the competition - so if you jump for all 4 days you get 4 entries, if you jump for only 1 day you get 1 entry etc.
We will draw the winning entry at end of jumping Tuesday, 24 September 2013 and the winner will need to order and claim their prize within 1 year of the above date.
In addition at the event there will be equipment from Parachute Systems including the new VOLT semi-elliptical main parachute available to demo.
We thank Parachute Systems for their ongoing support of Skydive Rustenburg and SA Skydiving - please visit their website for more information on any of the products available.
---
---
What's all the fuss about?
In 2011 the FAI decided on a change to the competition format for Artistic Events in the Freefly discipline. As a rule, the South African Nationals Open category follows FAI rules and so the open format changed as well. In a nutshell, the format of the old competition included a combination of free and speed rounds. The free rounds were entirely up to competitors to decide on what to do, and the speed round followed the traditional formation skydiving methodology where points/moves were randomly drawn at the start of the competition and competitors had to do these moves in the order drawn as many times as possible - speed. The new format replaced the existing two speed rounds with two compulsory rounds that are set as part of the FAI rules. This means that the two dive plans are fixed permanently and competitors can all train for the same dive plans going into competition. The compulsory rounds consist of a minimum number of moves as per the rules, but competitors are able to decide on the sequence and add to it - the additional tricks/moves added by competitors are judged and awarded points accordingly. In short, the two speed rounds were changed to two artistic rounds making them more in tune with goals of Artistic Events.
But what about Intermediate AE Freefly?
The FAI does not set rules for intermediate competition, instead it is up to the local sport skydiving bodies to decide - in South Africa, this would be SSA AE Committee. For the past few nationals the intermediate competition followed the old format i.e. a combination of free and speed rounds, but now the time has come to align the Intermediate competition rules with that of the Open format and that of the updated Mops as well.
The SSA AE Committee has decided that the Intermediate competition will follow the same format and rules as the Open format, however the moves for compulsory rounds will be chosen to suit this level of flying. For starters, there will be no head down, belly, or back flying.
The removal of head down is somewhat obvious as head down is not a skill possessed by the intermediate flyers. The removal of back and belly helps make the competition more accessible to a greater number of flyers. Why? Simply put, the mixture of horizontal and vertical flying, and resultant drastic speed changes makes the skydive not only challenging for the two filmed competitors, but also the camera flyer. So in the past, you needed a bad ass to be your camera flyer whereas now the camera flyer can be someone at intermediate level as well. Now all that remains is a finalisation on the exact minimum moves for the compulsory rounds.
For the past few months the SSA AE Committee has been researching, debating and discussing what moves should be included for these two rounds. A selection has been made, drawn from a series of head up moves and blocks used in the IBA intermediate tunnel competition. The selection has been emailed to all AE listed email addresses and has also been posted on the PASA SSA AE Facebook page and is currently under discussion. The committee urges all interested parties to share their views and comments now as the intention is to finalise and publish rules by the of September. Feel free to contact any of the committee members in this regard.
Julie Teague
Warren Hitchcock
Ria Moothilal
Irrespective of your current skill level, the new rules are there to make competition more accessible, fun, and skill building. So why not think about making a team now, start training, and see you at the next Nationals!
---
---
At last, and with the full force of Aerodyne backing us once again, SASL Season V will start on 1 October 2013.


The South African Skydiving League is a skydiving competition that turns your low jump numbers into a reason for seniors to jump with you. One of you brings the experience the other the weighting; But you have to find just the right balance of experience-to-weighting to maximise your scores.

There are amazing prizes and equal chances for all. Aerodyne again support us as our main sponsor – making this league the competition with the biggest pot in the South African Skydiving circuit. So, amongst the bunch of other prizes from our generous list of sponsors (refer to any previous SASL season for the calibre of prizes) what is the Big Daddy – the Aerodyne prize? Our lips are sealed until the big reveal! For now, make sure you enter from the start and every month because missing a month can be catastrophic to your points.

So what's it about and how do you get in on it?
| | |
| --- | --- |
| What: | A 2-way and 4-way FS skydiving league competition consisting of just 3 drawn jumps per month from October to March. Repeat the jumps as many times as you like, at any time that month, submitting your best effort through our website for each before the monthly deadline. PASA judges score you, SASL awards you points and you climb the leader board. The league culminates with SA Nationals, which forms the final month and the only "non-repeatable jumps". Our weighting system bumps up your score according to the combined experience level of you and your team mates, using a formula that equals the playing ground. It's not your performance that counts – it's your performance for your experience level that counts. Best of all, it's an individual league with an individual winner – your team mates can change monthly and you can enter on multiple teams in a single month. The more you enter, the better your chances and you keep the highest points earned by any of your teams each month. |
| Who: | Any PASA member with an ISP or higher (although your Formation Skydiving Cat II will help you immensely). |
| Cost: | It's FREE, thanks to our phenomenal sponsors and hardworking volunteers, committee and judges. |
| Why: | Because we can, because we need more competition in this country, to develop sport skydiving, to introduce novice jumpers to competition in a fun, low pressure environment and to feed the hunger of our addicted competitors for more competition! But mostly because we can. |
| Where: | The jumps must be done at a PASA drop zone, unless cleared prior to a month's jumping commences. |
| How: | If you haven't registered previously, register on the SASL website (www.skyleague.co.za). All the details of the league and how it works are on the website. You can also give us a call or drop us as email for more information. |
| When: | The first draw will be released on 1 October. Registered jumpers will receive it in the SASL newsletter, it will be posted on the SASL website and it should be posted on your club notice board. |
Only one month to go and then it's GAME ON!
gameON@skyleague.co.za
The SASL Committee - GAME ON!
www.skyleague.co.za

---
---
Pretoria Skydiving Club is turning 50! And if any group of people know how to celebrate, it's the jumpers from 'Da Boom'.
The event will be officially started on Friday, 4 October, where display jumps and a banquet will take place for dignitaries from SASCOC, Tshwane Municipality and the like. The real fun happens on 5 and 6 October, where 2 Angels will be taking all jumpers to 12,000ft for the duration of the celebrations.
| | |
| --- | --- |
| Kicking off the event will be a Canopy Piloting competition, which will consist of only 4 rounds, where intermediate jumpers will be able to compete against senior canopy pilots using a handicap system. On Saturday, there will also be a Freefly competition of only 4 rounds, which also allows open and intermediates to compete against each other for the first time, and which will trial the proposed new moves for the Freefly Intermediate competition format (see article elsewhere in this newsletter). On Sunday the senior freeflyers will again take to the sky to look to break the head down record which was recently set at Nationals. With two planes at hand, 16 ways are the order of the day for Formation Skydiving. Simba will be on hand to organise this. Claire King will also be around to load organise. For your non-skydiving friends we'll also have the 'whole shebang' and a DJ on Saturday night. So with something for everyone, you have no excuse not to be there. Accommodation in the area is booking out fast, so if you plan to go we suggest you get going with your arrangements. Camping is as always an option on the drop zone. If you have any questions about competing please contact Julie | |
---
---
By Claire King

This year, Pretoria Skydiving Club turns 50, a pretty amazing achievement and a perfectly good reason to celebrate with jumps, reunions and a great big party.

This is exactly what PSC has planned for 4-6 October. Party plans and the celebration weekend fill an article of their own but it got us thinking about the history behind the club and its owner, Peter Lawson.

Quietly perched on his stool in manifest each weekend, the unassuming Pete Lawson is the man behind the club these days. More accurately, Pete is the club.

Many of our members have no idea of the experiences, achievements and contributions Pete has made over the years. For example, did you know that Pete was one of the key people who shaped PASA in the form it takes today?

He quietly offers advice when it's sought and chuckles over stories of the "old boys" over a beer, but is seldom forthcoming about all he has done and learned over the years.

So we wanted to share something of it in the lead-up to PSC's Big Birthday Bash.

One article can't begin to cover Pete's path in skydiving, and really, this is a man you get to know over years of hanging out, learning, beer and stories, not in a single article. So we instead went with a "quick 'n dirty" fact sheet from our chat between manifest and driving loads to boarding point. It doesn't even touch on the mentorship, influence and contribution Pete has made to us and our sport over the years, spanning most of our entire skydiving careers.


1st jump: 1974
1st jump instructor: Gary Magnusson
Gear: C9/B4 Pack with a 24ft flat round reserve
Aircraft: Cessna 206
Last Jump: The last Rooiberg Boogie
Last jump no: "About 10 000?"

Some highlights of your skydiving career:

World Meet 1983 4-Way Bronze (10.0 avg)
US Nationals 1990 4-Way 4th place (12.2 avg) and 8-way 3rd place (9.8 avg)
SA Nationals 1990 4-Way Gold (12.5 avg) and 8-way Gold (10.1 avg)
Receiving the "South African Sports Merit Award" from then State President, Marais Viljoen, in 1982.
Receiving the Aero Club of South Africa's "Gold Wings" award in 2005.

Flying career as a pilot:

First started in 1976, stopping for financial reasons, then again in 1978, leaving the course to attend the World Cup in France and finally in 1991, when he became more actively involved in PSC, he started flying seriously.

Skydiving mentors:

Ruben Knoetze, Dan Bodley, John Higgins, Hugh Newman and so many more!

SA Representation, World Cups and World Meets:

Pete has competed in 22 South African Nationals (1975-1985, 1987-1996 and 2004) in Formation Skydiving, Canopy Formation, Canopy Piloting and Classic Accuracy Landing.

In that time he has won 25 Gold medals and 10 Silver medals (4-, 8- and 10-way and Classic Accuracy Landing)

On SA National 8-Way Team: '77, '79, '81, '84, '85, '87, '88, '89, '90, 2004
On SA National 4-Way Team: '81, '82, '83, '84, '85, '87, '88, '89, '90, '92

Represented SA at:

World Cups: '76 Oudtshoorn, '78 France, '82 Austria, '84 France, '88 France
World Meets: '81 USA, '83 Sun City SA, '87 Brazil (unofficial team), '04 Croatia
US Nationals: 1990

Teams and team mates:

8-ways were mostly a combination of the 4-ways.

Gunston: Gavin Aspden, John Dales, Chris Dales, Ruben Knoetze
Bop Bonds: Gerhard Du Toit, Chris Dales, Ruben Knoetze, Hugh Newman
Ruff No's: Ivan Coufal, Gary Ebden, Norman Langeveldt, Lourent Lobjoit, Gary McBirnie

What you consider you greatest skydiving achievement:

Winning Nationals 8-way and 4-way 10 times each.

With fewer than 300 jumps, Pete competed on the 8-way team at the 1976 World Cup in Outdshoorn, the first time Formation Skydiving was held in its current format (sequential formations). South Africa placed 6th out of 11. Pete's 1st year on the SA National 8-way team was in 1976, doing his 400th jump during that World Championship in Australia, which South Africa was banned from attending.

You were a pioneer of Canopy Piloting. How did it start?

"In 1981 and 1982 (WM & WC), the US 8-way team was already noticing, and amazed, at how the South African team members were landing our Cruiselites. It was not a conscious start so much as knowledge of flying. Towards the end of 1980, I landed behind the club (there were no trees there back then). I did a low turn, which increased my speed, and was coming for a water drum. I flared, popped over it and the light bulb came on. From then on I started playing with, then practicing 90 degree and 180 degree toggle turns.

I wish I was 24 now, with modern CP, the equipment and knowledge available to jumpers."

The 2 biggest changes to benefit sport skydiving since you started:

The growth of FS and square parachutes

Advice for new skydivers:

Focus. Drop everything else and with determination, belief in yourself and the belief that you can do it, you will.

Beginning of your involvement with PSC:

Early 1991

1963 PSC founding members you're still in touch with: Silvio Steffenini

Some PSC club achievements:

Hosted the FS World Cup in 1974 and the CP World Championships in 2008

We're looking forward to a great birthday weekend in October and many more years of fun with Pete at PSC.
---
---
We are all familiar with the different disciplines in skydiving competition but have you ever considered judging? Judging is a great avenue for skydivers, ex-skydivers and skydive spouses who want to be involved but don't necessarily want to (or can't) compete themselves. Besides the fantastic travel opportunities, the range of events in skydiving offers a broad spectrum of environments, technical involvement and challenge. As a competitor, you can improve your scores by understanding the detail of how your event is judged.


From Accuracy and Canopy Piloting (sunny, low wind days out at the pond with front row seats to Grand Prix swoops), to Artistic Events (combining technical evaluation with creative appraisal of choreographed routines), Formation Skydiving (quick recognition and scoring of formations, moves and faults at high-speed, attention to small detail under pressure) and Canopy Formation (up close and personal with canopy action), there is something for everyone.
The PASA Judges Committee offers judge training for your Nationals qualification, which can lead to your international evaluation and qualification. Two of our judges have just returned from judging in France and Bosnia, judging the World Cup in Formation Skydiving. Another is currently judging the CP World Cup in Russia. Collectively, in the last couple of years our judges have been to Dubai, the Czech Republic, the US, the UK, France, Germany, Russia, Colombia, Belgium and more.

It's fun, challenging, and you get to watch the best skydiving in the world. If you'd like to know more, contact the Chairman of the PASA Judges Committee
---
By Eugene Potgieter


Getting involved in big-way skydiving is so fulfilling that I just cannot help sharing it. I have given this a lot of thought, especially since attending a couple of big-way camps with P3 in Perris, California and learning that there were skydivers with less than 300 jumps outperforming skydivers with way more jump numbers.

Big-way skydiving is all about discipline and positive attitude, experience will be issued at the camp. The camp is a big way formation introduction camp where you can walk away with a 60-way in the bag. You can always stay a week longer and up the score to a 100-way, with a Club100 patch complete!

Now, imagine we rally up a bunch of South Africans, do a block booking on an unsuspecting airline and have one heck of a ball…

I already started discussing this with the P3 team and they think it is a brilliant idea. Now, if we plan this for the camp held in the first week of September 2014, budgets can be proactively prepared, permissions negotiated and we have loads of time to start with preparations to ease the confidence with some big way introduction events at JSC!

We do have our own share of skygods available, such as Tim Mace, Paul "Simba " Marcellin, Grumpy, Ralph and we can already start having fun, building up to the big event. Guys, worst case scenario, (given that you spend conservatively), is R40, 000.00. This includes airfare, accommodation, Jumps and one hell of a blast!

Click here to see what it is all about. You will have to complete an online "CV" to qualify for the camp, but this IS a learning camp, so don't be too surprised if you qualify.

If you are interested, even cautiously optimistic, please forward me your details.

This event is open to all! So please feel free to join in! The more the merrier!

We are planning events at JSC to give you the necessary exposure and we have more than a year to get in shape, so come on! Start living!

Dan BC, (Dan Brodsky-Chenfeld) who is a six-time World Champion Formation Skydiver and the author of the book "Above All Else" will be there to share his incredible knowledge and experience, together with Kate Cooper and the rest of the P3 team. You will be amazed by your achievements and the sudden increase in your skydiving abilities, once these guys got you under their eye!

So mail me and we will start working on it! You will be under no obligation whatsoever, should you later decide to withdraw, it will not be a problem. Once you have done your on-line deposit on the P3 website, we will start managing flights and accommodation and start communicating the next phase.
---
dPhi Wear Online Store
Suppliers of high quality skydiving t-shirts and apparel. Why wait for us to come to your DZ when you can get what you want directly from our website!
Contact: Claire King & Dirk Venter
Website: http://www.dphi.co.za/
Email: sales@dphi.co.za
Telephone: 011 609 6719
---
Lic/Rating
Name
Drop Zone
A Licence
A7257
Ian Jacobs
Johannesburg Skydiving Club
A7258
Zander Jacobs
Johannesburg Skydiving Club
A7259
Daniam Henriques
Pretoria Skydiving Club
A7260
Reshall Jimmy
Johannesburg Skydiving Club
A7261
Biela Liebenberg
Johannesburg Skydiving Club
A7262
Hendré Swart
Johannesburg Skydiving Club
A7263
Trevor Lander
Johannesburg Skydiving Club
A7264
Stavros Tzircalle
Pretoria Skydiving Club
A7265
Bernard Groenewald
Johannesburg Skydiving Club
A7266
Rory Brooks
Johannesburg Skydiving Club
A7267
Donovan le Roux
Johannesburg Skydiving Club
A7268
Michael Walker
Johannesburg Skydiving Club
A7269
Jannie Coetzee
Witbank Skydiving Club
A7270
Dylan Hemer
Durban Skydive Centre
A7271
Gerrie Peyper
Johannesburg Skydiving Club
A7272
Nicole Nunes
Johannesburg Skydiving Club
A7273
Leslie Albrecht
Skydive Rustenburg
A7274
Stefan Schuurmann
Pretoria Skydiving Club
A7275
Heidi Brooks
Johannesburg Skydiving Club
A7276
Luigi Ciapparelli
Witbank Skydiving Club
A7277
Adam Reyneke
Skydive Central
A7278
Matthew Gilpin
Pretoria Skydiving Club
A7279
Rudi Oosthuizen
Skydive Central
A7280
Gerhard Schoeman
Witbank Skydiving Club
A7281
Sheldon Brown
Witbank Skydiving Club
B Licence
B2858
Morne Harding
Johannesburg Skydiving Club
B2859
Brad Price
Johannesburg Skydiving Club
B2860
Renier Viljoen
Pretoria Skydiving Club
B2861
Ian Palmer
Johannesburg Skydiving Club
B2862
Garth Lewis
Johannesburg Skydiving Club
B2863
Mark Peeters
Witbank Skydiving Club
B2864
Devon Beynon
Johannesburg Skydiving Club
B2865
Deon van Wyk
Durban Skydive Centre
B2866
Rudi Oosthuizen
Skydive Central
C Licence
C1816
Hendri Liebenberg
Skydive Rustenburg
C1817
Ian Billing
Johannesburg Skydiving Club
C1818
Brian Boynton
Witbank Skydiving Club
C1819
Michelle Tobias
Johannesburg Skydiving Club
D Licence
D913
John Williamson
EP Skydivers
PRO Rating
PRO441
Rudi Serfontein
Witbank Skydiving Club
PRO442
Ben Greyling
Skydive Rustenburg
PRO443
Scott Riddell
Johannesburg Skydiving Club
Instructor Rating
I202
James Williamson
EP Skydivers
AFF Instructor Rating
AI83
Ian van den Berge
Pretoria Skydiving Club
Coach Rating
CH148A
Julie Teague
Pretoria Skydiving Club
F = Formation Skydiving
A = Artistic Events
C = Canopy Formation
P = Canopy Piloting
W = Wingsuiting
S = Freefall Style & Accuracy Landing
---
---
Thank you to everyone who contributed to this issue. If you have any stories, pictures, comments or suggestions please send these to news@para.co.za
If you are interested in advertising in this newsletter, contact admin@para.co.za for more details.
---
PASA and the Toggle Times cannot be held responsible for any errors or omissions, due to all content being submitted without verification.
---